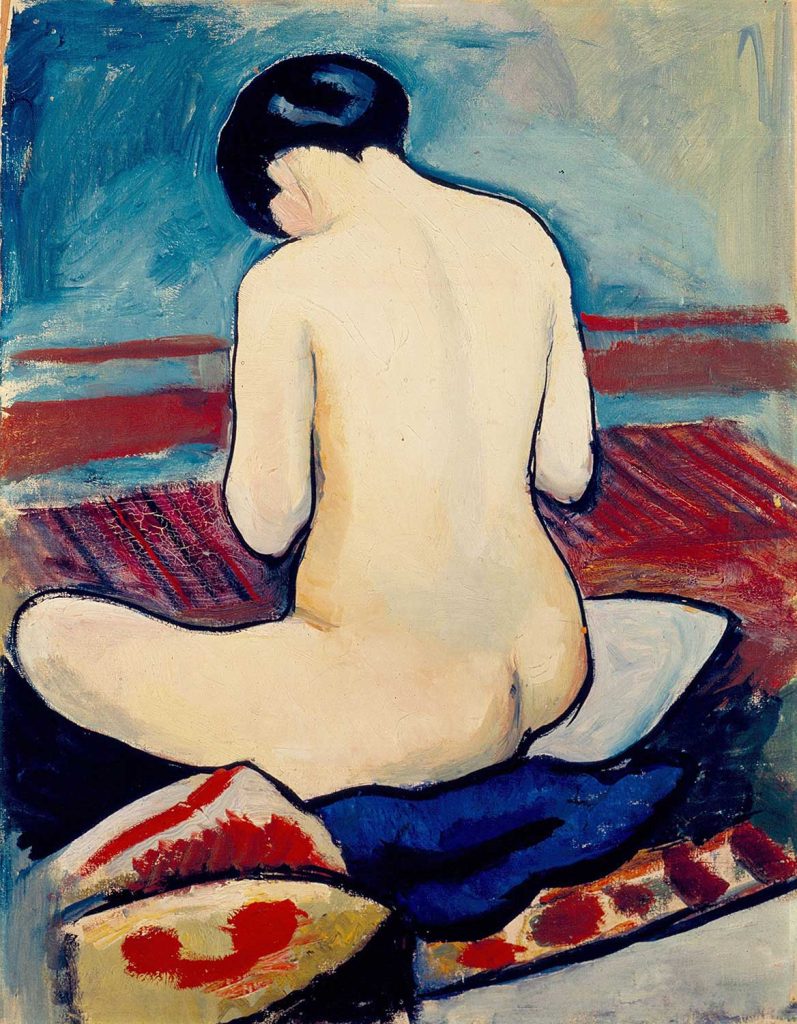 Sitting Nude With Pillow by August Macke was created in 1911. The painting is in Wilhelm Lehmbruck Museum Duisburg. The original size of the work is 53 x 41 cm and is made of oil on cardboard.
About The Artist: August Macke (1887 – 1914) was a German Expressionist painter. He was one of the leading members of the German Expressionist group Der Blaue Reiter (The Blue Rider). He lived during a particularly active time for German art: he saw the development of the main German Expressionist movements as well as the arrival of the successive avant-garde movements which were forming in the rest of Europe. As an artist of his time, Macke knew how to integrate into his painting the elements of the avant-garde which most interested him.
He was born in Germany on 3 January 1887, in Meschede, Westphalia. The first artistic works to make an impression on the boy were his father's drawings, the Japanese prints collected by his friend Thuar's father and the works of Arnold Böcklin which he saw on a visit to Basel in 1900. Thereafter Macke lived most of his creative life in Bonn, with the exception of a few periods spent at Lake Thun in Switzerland and various trips to Paris, Italy, the Netherlands and Tunisia. In Paris, where he traveled for the first time in 1907, Macke saw the work of the Impressionists, and shortly after he went to Berlin and spent a few months in Lovis Corinth's studio.
---
This painting is available for purchase as an art print on canvas from canvastar.com

---