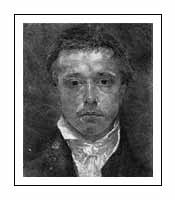 Samuel Palmer (1805 – 1881)
British landscape painter, etcher and printmaker Samuel Palmer was born in Surrey Square off the Old Kent Road in Newington, London. Palmer painted churches from around age twelve, and first exhibited Turner-inspired works at the Royal Academy at the age of fourteen. Through John Linnell, he met William Blake in 1824. Blake's influence can be seen in work he produced over the next ten years. The works were landscapes around Shoreham, near Sevenoaks in the west of Kent.
After returning to London in 1835, and using a small legacy to purchase a house in Marylebone, Palmer produced less mystical and more conventional work. Part of his reason in returning to London was to sell his work and earn money from private teaching. Palmer turned more to watercolour which was gaining popularity in England. He became a full member of the Water Colour Society in 1854, and its annual show gave him a yearly goal to work towards.
From the early 1860s he gained some measure of critical success for his later landscapes. His best late works include a series of large watercolours illustrating Milton's poems L'Allegro and Il Penseroso and his etchings, a medium in which he worked from 1850 onwards, including a set illustrating Virgil. Palmer died in Redhill, Surrey, and is buried with his wife in St Mary's, Reigate churchyard.
The Shoreham work has had a powerful influence on many English artists after being rediscovered. Palmer was largely forgotten after his death. In 2005 the British Museum collaborated with the Metropolitan Museum of Art to stage the first major retrospective of his work. The oldest house in Shoreham, Kent, is called Reed Beds, but is also known as the Samuel Palmer School of Fine Art.
---
---
References
---