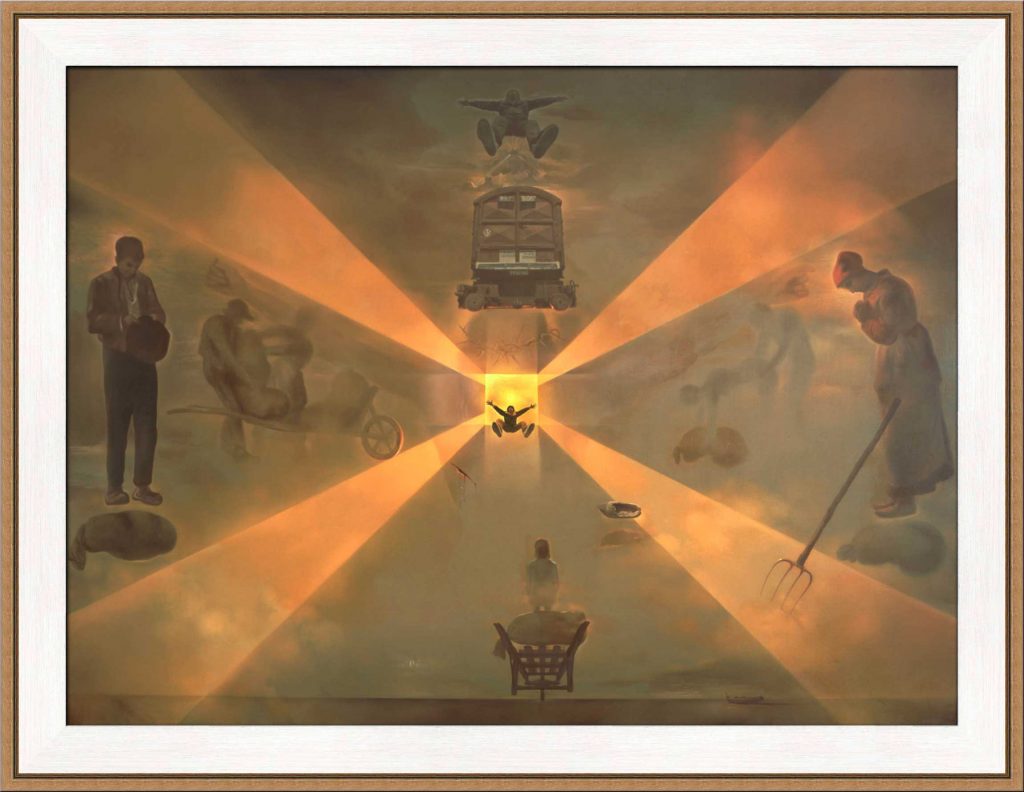 Salvador Dali The Station of Perpignan, Date: 1965, Technic: Oil on canvas, Dimensions: 295 x 406 cm, Location: Museum Ludwig Cologne. Art Movement: Surrealism
Salvador Dali The Station of Perpignan Analysis
The Station of Perpignan (1965) holds a key position in Dall's oeuvre. The figures of a farmer and his wife at prayer, flanking the central field, ware taken from the painting Angelus by Jean-Francois Millet. It was a work that preoccupied Dali continually from the 1920's onwards. Inspired by Sigmund Freud's psychoanalytical interpretation of Leonardo da Vinci's The Virgin, Child, and St. Anne, hidden in which Freud discovered the shape of an eagle he read as a sexual symbol, Dali likewise discovered a covert form in Millet's Angelus. Based on an X-ray photograph, a geometric shape was detected between the man and woman which Dali interpreted as the coffin in which the Son of God lay between his father and mother.
horizontal axis
The female figure's attitude may appear devout and humble, but to Dali it represented the pose someone takes before committing on act of aggression, like the praying mantis before the act of mating. In his image father and son become a single person, a victim of mating and fertility.
The sacrifice of the son, in the form of the hovering figure of Christ, is located at the exact center of the composition. In parallel with Jesus, Dali has depicted himself. On the vertical axis a direct link is established with his wife, Gala, standing below; on the horizontal axis Dali is related to the figures of mother and father, implying that he represents son, victim, and Christ in one. In the midst of his vision, Dali appears twice over on the central axis. He is depicted in a state of falling, a motif that evokes the transition from waking to sleep, from reality lo dream.
Port Lligat, where Dali lived, is suggested by the seascape with ship in the lower half of the picture. Visible opposite, in the upper half, is a freight car that stands for Perpignan Station, where the artist spent a great deal of time. He discovered that the waiting room there had the same shape as the student's room Freud had depicted in a sketch. The station became a sacred locale to Dali, and a rich source of inspiration.
---