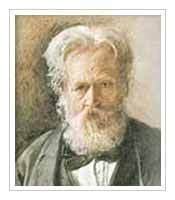 Rudolf Ritter von Alt (1812 – 1905)
Austrian painter Rudolf Ritter von Alt was born in 1812 in Alservorstadt. He took his first education beside his father. Ritter von Alt studied at the Vienna Academy between 1825 and 1832, and since 1826 he was in the landscape class of Josef Mössmer. Josef Mössmer is a Vedutismo landscape painter.
He traveled a lot, the Crimea in 1863, Germany in 1864, and Italy in 1867. But the city that he was born always preferred to paint. In 1879 he became a professor at the Vienna Academy.
Alt demonstrated a remarkable talent for expressing certain peculiarities in nature. He managed to paint nature authentically by focusing on the different hues of sky, the colour-tone of the air and the vegetation. His later works came closer to Impressionism. His perspectives on architecture were interesting, and he often chose everyday objects to paint. The painting of interior views also became one of his strong points, giving him attention in Vienna.
He visited and worked for a while in Rome and Naples; after that he visited the lakes of Lombardy, then Galicia, Bohemia, Dalmatia, Bavaria and then returned multiple times to Italy. In 1863 he went to the Crimea to paint some views of an estate of the Empress, and in 1867 he went to Sicily.
It was one of the most popular artists of the 19th century Vienna. Paintings are valuable as documentaries as well as their artistic qualities. Alt died in Vienna in 1905. Most of his paintings are held by various museums in Vienna.
---