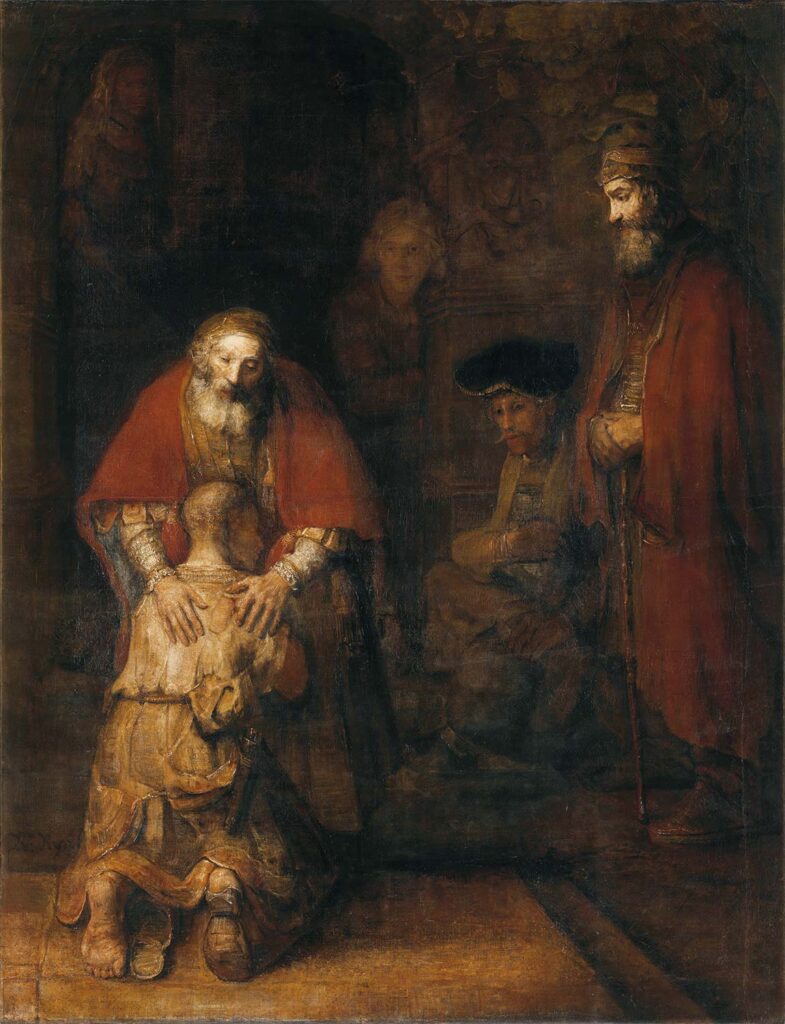 Return of the Prodigal Son by Rembrandt van Rijn was created in 1668. The painting is in Hermitage Museum St Petersburg. The size of the work is 262 x 205 cm and is made of oil on canvas.
At one moment in his youth Rembrandt depicted himself in one of his many self-portraits as a reveller and spoilt child of fortune at the height of his fame and his powers, with a goblet in his hand and his beloved woman in his lap. His turning to the subject of the return of the prodigal son (Lk 15:11-32) is a sort of finale to that story. The artist painted the work just months before his death.

It is hard to recognize the pale, emaciated, shattered man returning to the father whom he left in his youth as that same reckless pleasure-seeker, gambler and spendthrift, who asked his parent for his share of the inheritance and squandered it away down to the last coin. What has become of his self-confidence and fine clothing? Everything impermanent has slipped from him like an empty husk. At the cost of suffering and losses he has gained insight. Entering his father's house, miserable, sick and exhausted, he falls on his knees before his parent, who bends over him, full of love and forgiveness. Raed more in Hermitage Museum.
About the Artist: Dutch Golden Age painter, printmaker and draughtsman Rembrandt was born on 15 July 1606 in Leiden, in the Dutch Republic, now the Netherlands. As a boy, he attended a Latin school. At the age of 13, he was enrolled at the University of Leiden, although according to a contemporary he had a greater inclination towards painting. In 1624 or 1625, Rembrandt opened a studio in Leiden, which he shared with friend and colleague Jan Lievens. In 1627, Rembrandt began to accept students, which included Gerrit Dou in 1628 and Isaac de Jouderville… Read more
---
Order a reproduction of this work (printed on canvas)
---