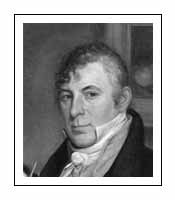 Raphaelle Peale (1774 – 1825)
American painter Raphaelle Peale was born in Annapolis, Maryland. Raphaelle was trained by his father as an artist. Early in his career, the pair collaborated on portraits. In 1793, he made a trip to South America in order to collect specimens for the Peale Museum founded by his father. He exhibited five portraits and eight other paintings, probably still lifes, at the Columbianum, Philadelphia in 1794.
His first professional exhibition was in 1795 at the age of 21. In 1797, with his brother Rembrandt. From 1810, Peale concentrated on still-life painting almost exclusively, becoming America's first professional still-life painter, and he exhibited frequently at the Pennsylvania Academy of the Fine Arts.
Brief financial success with the physiognotrace, a profile making machine, with which he toured Virginia, 1803–5. August 1808, hospitalized with alcoholic "delirium"; suffered severely from gout. By late 1813, unable to walk without crutches. His style may have been influenced by Spanish still life paintings. Most of Peale's paintings are small in scale, and depict a few objects. The act of covering a nude figure was not new to the world of art, however Peale took this choice literally when painting the cover into the painting itself.
---
---
References
---