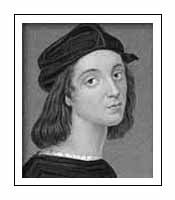 Raphael (Raffaello Sanzio da Urbino) 1483 – 1520
Italian painter and architect of the High Renaissance Raphael was born in the small but artistically significant central Italian city of Urbino in the Marche region. Most modern historians agree that Raphael at least worked as an assistant to Perugino from around 1500. Raphael led a "nomadic" life, working in various centres in Northern Italy, but spent a good deal of time in Florence, perhaps from about 1504. Although there is traditional reference to a "Florentine period" of about 1504–1508, he was possibly never a continuous resident there.
As earlier with Perugino and others, Raphael was able to assimilate the influence of Florentine art, whilst keeping his own developing style. Frescos in Perugia of about 1505 show a new monumental quality in the figures which may represent the influence of Fra Bartolomeo, who Vasari says was a friend of Raphael. But the most striking influence in the work of these years is Leonardo da Vinci, who returned to the city from 1500 to 1506.
Roman Period
In 1508, Raphael moved to Rome, where he resided for the rest of his life. He was invited by the new pope, Julius II, perhaps at the suggestion of his architect Donato Bramante, then engaged on St. Peter's Basilica, who came from just outside Urbino and was distantly related to Raphael. Unlike Michelangelo, who had been kept lingering in Rome for several months after his first summons, Raphael was immediately commissioned by Julius to fresco what was intended to become the Pope's private library at the Vatican Palace.
These very large and complex compositions have been regarded ever since as among the supreme works of the grand manner of the High Renaissance, and the "classic art" of the post-antique West. The Vatican projects took most of his time, although he painted several portraits, including those of his two main patrons, the popes Julius II and his successor Leo X, the former considered one of his finest. Other portraits were of his own friends, like Castiglione, or the immediate Papal circle. Other rulers pressed for work, and King Francis I of France was sent two paintings as diplomatic gifts from the Pope.
Raphael painted several of his works on wood support but he also used canvas and he was known to employ drying oils such as linseed or walnut oils. His palette was rich and he used almost all of the then available pigments such as ultramarine, lead-tin-yellow, carmine, vermilion, madder lake, verdigris and ochres. In several of his paintings he even employed the rare brazilwood lake, metallic powdered gold and even less known metallic powdered bismuth.
---
---
References
---