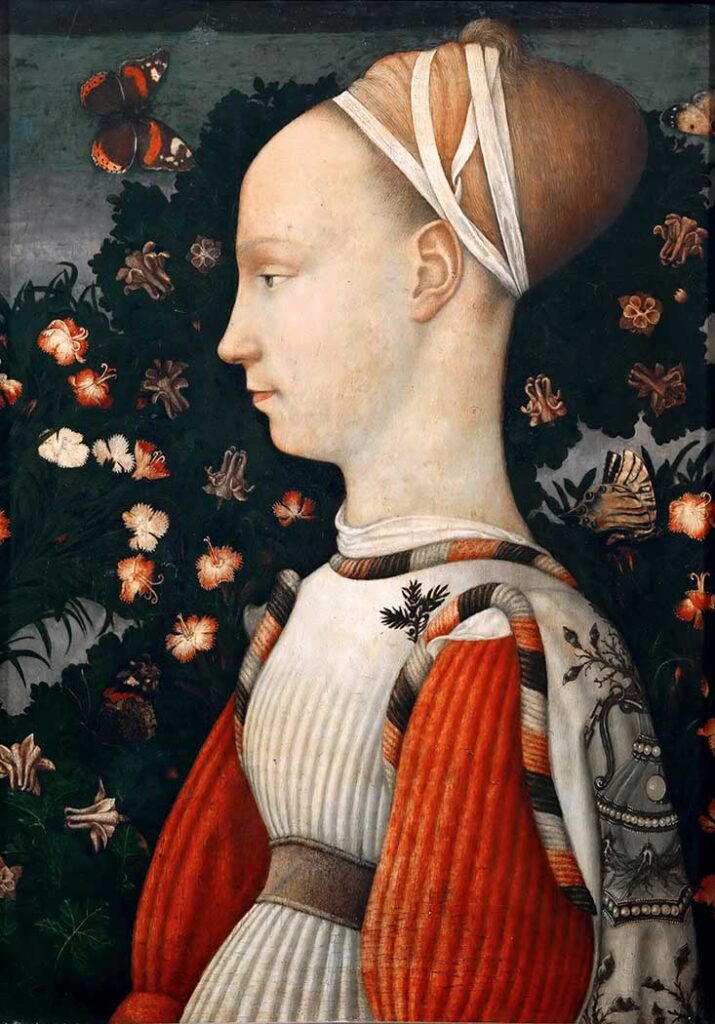 Portrait of a Princess by Pisanello was created in 1435 – 1445 and the painting is in Musee du Louvre, Paris. The size of the work is 43 x 30 cm and is made of tempera on panel.
Portrait of Princess is a tempera painting on panel attributed to the Italian Late-Gothic master Pisanello. It was probably executed between 1435 and 1445 and is also known as Portrait of a Princess of the House of Este. It is firmly attributed to Pisanello on stylistic grounds and because he stayed in Ferrara in the period, where he also finished a portrait and a celebrative medal of Marquis Leonello d'Este.
The princess is shown in profile against a background of numerous butterflies and columbine flowers. The butterfly (it seems a Vanessa atalanta) near the princess' brow is a symbol of the soul.
This picture first came to light in 1860 in a sale, when it was bought by the German Consul Felix Bamberg. In 1893 the Louvre acquired it from Charles Picard for 30000 francs.
For a long time there has been no doubt in anyone's mind as to the name of the artist; but the identity of the sitter remains a mystery. The portrait represents a very young woman, hardly more than a girl. Against the background of greenery, with its sprinkling of butterflies, pinks and columbines, the profile is sharply defined. Her hair is styled to create the appearance of a high, round forehead, an attribute of beauty in Renaissance Italy. Women of this era frequently plucked their eyebrows, hairlines, and drew hair tightly away from the face to accentuate this quality.
The only solid basis for a hypothesis of identification is the embroidery on her sleeve, representing the two-handled vase of the Este family; this is also found on the reverse of a medal which Pisanello designed for Lionello d'Este. Attempts have therefore been made to connect the portrait with various princesses of this family.