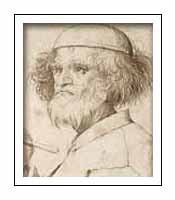 Pieter Bruegel the Elder (1525 – 1569)
Dutch painter Pieter Bruegel the Elder was born in Breda. Bruegel was the most significant artist of Dutch and Flemish Renaissance painting, a painter and printmaker, known for his landscapes and peasant scenes; he was a pioneer in making both types of subject the focus in large paintings. Between 1545 and 1550 he was a pupil of Pieter Coecke.
In 1551 Bruegel became a free master in the Guild of Saint Luke of Antwerp. He set off for Italy soon after, probably by way of France. From 1555 until 1563, Bruegel lived in Antwerp, then the publishing centre of northern Europe, mainly working as a designer of over forty prints for Cock, though his dated paintings begin in 1557. Bruegel was born at a time of extensive change in Western Europe. Humanist ideals from the previous century influenced artists and scholars. Italy was at the end of its High Renaissance of arts and culture, when artists such as Michelangelo and Leonardo da Vinci painted their masterpieces.
Pieter Bruegel specialized in genre paintings populated by peasants, often with a landscape element, though he also painted religious works. Making the life and manners of peasants the main focus of a work was rare in painting in Bruegel's time, and he was a pioneer of the genre painting. Many of his peasant paintings fall into two groups in terms of scale and composition, both of which were original and influential on later painting.
Bruegel's art was long more highly valued by collectors than critics. His friend Abraham Ortelius described him in a friendship album in 1574 as "the most perfect painter of his century", but both Vasari and Van Mander see him as essentially a comic successor to Hieronymus Bosch.
---
---
References;
---