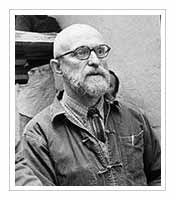 Pierre Alechinsky (1927 –
Pierre Alechinsky was born in Schaerbeek (1927). Like Karl Appel and Corneille, Pierre Alechinsky was active in a group of Danish, Belgian and Dutch artists who called themselves Cobra (1948-195o). Alechinsky's background was in book illustration and typography, which he studied in 1944 at the Ecole Nationale Superieure d'Architecture et des Arts Decoratifs in Brussels.
This training in the principles of design remained a key factor in his later work. After a phase of emotionally charged, gestural painting in the mode of European Art Informel, a trip to Japan in 1955 brought a changeover. Alechinsky's style grew more tranquil, contemplative, and ornamental, probably under the influence of Japanese calligraphic ink-painting, about which he even made a film in Tokyo and Kyoto.
This may also have been the source of his increasing preference for the color black, and perhaps even of the idea of including written texts in his prints and drawings of the period, which were eloquent in every sense of the word. A turn from impasto oils to smoothly applied acrylic paint, in 1965, contributed to a stylistic change in Alechinsky's work.
Exhibitions
By 1960 he had exhibited in London, Bern and at the Venice Biennial, and then in Pittsburgh, New York City, Amsterdam and Silkeborg as his international reputation grew. He worked with Walasse Ting and continued to be close to Christian Dotremont. He also developed links with André Breton. His international career continued throughout the seventies and by 1983 he became Professor of painting at the École nationale supérieure des Beaux-Arts, Paris.
Influence
The dreamlike atmosphere of Surrealist art fascinated Alechinsky from the beginning. He especially admired Andre Breton, Surrealist poet, philosopher, and explorer into the creative forces of the subconscious mind.
His works are held in the collections of the Royal Museums of Fine Arts of Belgium, the Tate, Museum Ludwig in Cologne, the New York Museum of Modern Art, the Walker Art Center in Minneapolis and the Museum of Art Fort Lauderdale, Nova Southeastern University in Fort Lauderdale, Florida.
---
---
References;
---