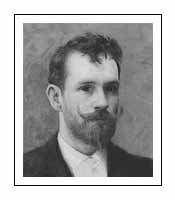 Paul Peel (1860 – 1892)
Paul Peel was a Canadian figure painter. He was born in London, Ontario, and received his art training from his father from a young age. Later he studied with William Lees Judson and at the Pennsylvania Academy of the Fine Arts with Thomas Eakins (1877-1880). He then moved to Paris in 1881, France where he studied at the École nationale supérieure des Arts Decoratifs, later enrolling in the atelier of Jean-Léon Gérôme at the École des Beaux-Arts.
He studied afterwards with Jean-Joseph Benjamin-Constant in his private atelier and then with him at the Académie Julian as well as with Henri Doucet and Jules Lefebvre (1877-1890). In 1883, he exhibited his first painting at the Paris Salon, where he would continue to exhibit regularly until 1892. His paintings have a conservative quality, but a few later works reveal that he was a convert to Impressionist colour and light.
Peel travelled widely in Canada and in Europe, exhibiting as a member of the Ontario Society of Artists and the Royal Canadian Academy of Arts. He also exhibited at international shows like the Paris Salon, where he won a bronze medal in 1890 for his painting After the Bath. He was known for his often sentimental nudes and for his pictures of children; he was among the first Canadian painters to explore the nude as a subject.
Although Peel left a substantial body of work, he must be seen as a talented painter at the threshold of achieving his full artistic maturity. Despite a certain unevenness often found in the work of young artists, Peel's creative output made him, in his day, perhaps Canada's best-known painter in Europe. Peel's considerable popularity in Canada today rests on a few pictures in just such a mode. However sentimental, they continue to strike immediate chords.
---
---
References
Dictionary of Canadian Biography
---