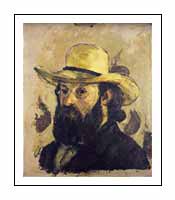 Paul Cézanne (1839 – 1906)
French artist and Post-Impressionist painter Paul Cézanne was born in Aix-en-Provence. In Paris, Cézanne met the Impressionist Camille Pissarro. Initially, the friendship formed in the mid-1860s between Pissarro and Cézanne was that of master and disciple, in which Pissarro exerted a formative influence on the younger artist. Cézanne's early work is often concerned with the figure in the landscape.
Cézanne's paintings were shown in the first exhibition of the Salon des Refusés in 1863. Before 1895 Cézanne exhibited twice with the Impressionists. In later years a few individual paintings were shown at various venues, until 1895, when the Parisian dealer, Ambroise Vollard, gave the artist his first solo exhibition. He concentrated on a few subjects and was equally proficient in each of these genres: still lifes, portraits, landscapes and studies of bathers. For the last, Cézanne was compelled to design from his imagination, due to a lack of available nude models.
Cézanne's paintings were not well received among the petty bourgeoisie of Aix. One day, Cézanne was caught in a storm while working in the field. After working for two hours he decided to go home; but on the way he collapsed. He was taken home by a passing driver. He died a few days later, on 22 October 1906 of pneumonia at the age of 67.
Along with the work of Vincent van Gogh and Paul Gauguin, the work of Cézanne, with its sense of immediacy and incompletion, critically influenced Matisse and others prior to Fauvism and Expressionism. Cézanne's explorations of geometric simplification and optical phenomena inspired Picasso, Braque, Metzinger, Gleizes, Gris.
---
---
References;
---