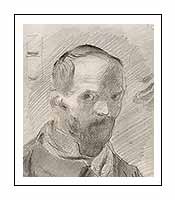 Otto Meyer-Amden (1885 – 1933)
Swiss painter and graphic artist Otto Meyer-Amden was born in Bern. After the premature death of his mother in 1888 was sent to live with foster parents. He was sent to an orphange in Bern in 1892 where he lived until 1900. He attended secondary school in Bern from 1901-1903, and then worked as an apprentice Lithographer in Zürich from 1903-1906. During this time he made symbolic watercolor paintings. Alongside his apprenticeship he attended night classes at the Kunstgewerbeschule in Zürich.
From 1906-1907 Meyer studied at the Art Academy in Munich. He then moved to Stuttgart to study at the Königliche Akademie der bilden Künste from 1907-1908. n 1909 Adolf Hölzel gave him the title of master student. In Stuttgart Meyer made the acquaintances of Oskar Schlemmer, Willi Baumeister, and other artists. Oskar Schlemmer proved to be a lifelong friend. It was around this time that Meyer first read Oscar Wilde's Dorian Gray. In 1907 he took study trips to Strassburg and Paris, where he first saw works by Paul Cézanne.
Amden
In 1912 he received an invitation to Amden in the canton of St. Gallen in Switzerland from the artists Willi Baumeister and Hermann Huber, who had settled there in two vacant houses, Baumeister in Haus Im Schwanden, Huber in Haus Im Faren. The houses were empty. They had previously been inhabited by the life reform group around Joshua Klein, the so-called Grappenhof. Meyer moved in with Huber, who left the house to him in 1913 and left. After some disputes between Baumeister and Meyer, Baumeister also moved away from Amden and Meyer stayed alone in Amden until 1928. He lived there in seclusion in the old farmhouse Im Faren. He kept a diary, especially in the years 1913 to 1915, and studied the Bible.
In the years 1915 to 1918 Meyer drew dark-toned graphite drawings. He used a technique known from Georges Seurat. In 1923 he designed a round glass picture for the sermon room of the Zwinglihaus in Zurich-Wiedikon. In 1922 he met Ernst Ludwig Kirchner in Zurich and became friends with him. In 1925, Meyer contributed eight works to the "Great Swiss Art Exhibition" in Karlsruhe.
In 1929 Meyer exhibited twelve of his works in the exhibition "Abstract and Surrealist Painting and Sculpture" at Kunsthaus Zürich. From 1928 until his premature death in 1933, Meyer-Amden taught at the School of Applied Arts in Zürich.
---
---
References;