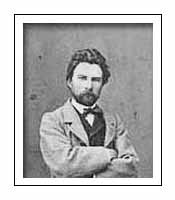 Otto Bache (1839 – 1927)
Danish Realist painter Otto Bache was born in Roskilde. At age eleven he received a dispensation and was admitted into the Royal Danish Academy of Fine Arts. In 1856 he received his first silver medal from the Academy and the following year he was awarded a second. Subsequently, he won the Neuhausen Prize for his painting "Husdyr i en Bondegaard".
In 1866, he received the Academy's travel grant and went to Paris and later to Italy. His stay in Paris had a particularly deep impact on his work, turning it in a direction characterized by more freedom, more colour, stronger light, and broader scope. He based in Italy in Florence, he studied the works of the old painters of the region, such as "Le Concert champêtre | by Giorgione and Titian. While cholera arrives in Florence, Bache continues his stay in Italy in Naples, Pompeii and finally Rome.
He returned to Denmark in 1868, having become a celebrity in the arts. The booming Danish economy, Otto Bache then received many orders for human and animal portraits. He was named a Commander in the Order of the Dannebrog and later was awarded the Dannebrogordenens Hæderstegn.
He received early recognition as a portrait painter but he also showed great interest in painting animal motifs, gradually also turning to genre works and history painting.
---
---
References;
---