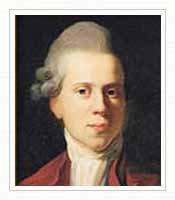 Nicolai Abildgaard (1743 – 1809)
Danish neoclassical painter Nicolai Abildgaard was born (1743) in Copenhagen. During 1772–77 Abildgaard studied in Rome, where he was primarily influenced by antique sculpture and Roman wall paintings. His style was classical, though with a romantic trend, and he had a remarkable sense of colour. Many of his paintings are melodramatic interpretations of episodes from ancient literature. He taught at the Danish Royal Academy of Fine Arts, of which he became director in 1789. Bertel Thorvaldsen, the prominent Danish sculptor, was his pupil.
Besides his post as professor, Nicolai Abildgaard was made official historical painter of the Court. His first and biggest assignment was to decorate the great hall at the newly built Christiansborg Castle. Sadly, the palace and most of Abildgaard's paintings were destroyed by fire in 1794.
Abildgaard took the inspiration for his motifs from the world of literature, principally portraying the unbalanced and passionate, and his many extant drawings reflect his vivid imagination. He created a large number of works for the royal family, including ten large-scale paintings representing the deeds of the Oldenborg monarchs for the Great Hall in Christiansborg Palace.
---
---
more information
the books
---