Natan Altman (1889 – 1970)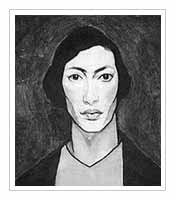 Natan Altman was born in Vinnytsia (1889), in the Podolia Governorate of the Russian Empire (present-day Ukraine) to a family of Jewish merchants. From 1902 to 1907, he studied painting and sculpture at the Art College in Odessa (now independent Ukraine). In 1906, he had his first exhibition in Odessa. During his student years in Paris, 1910-1912, Natan Altman was influenced by Cubism and worked intensively in a Futurist vein. Elements of both styles continued to inform his painting approach.
In 1912 Altman returned to Russia. Between 1918 and 1923, caught up in the fervor of a new, revolutionary art, he created a series of abstract paintings and reliefs which, as regards treatment of materials, show parallels to the work of Vladimir Tatlin and Ivan Puni. Altman also did great numbers of portraits; but here, achieving verisimilitude and likeness were of prime importance to him.
After 1918
He was the member of the Board for Artistic Matters within the Department of Fine Arts of the People's Commissariat of Enlightenment together with Malevich, Baranoff-Rossine and Shevchenko. In the same year he had an exhibition with the group Jewish Society for the Furthering of the Arts in Moscow, together with Wladimir Baranoff-Rossine, El Lissitzky and the others. In this same year, he installed a temporary work of architectural sculpture in Palace Square to commemorate the 1st anniversary of the October Revolution.
The facial features and hairstyle, too, recall those of the famous poetess whose life and work, in the eyes of many Russian artists and writers, symbolized liberty and resistance to an oppressive regime. At the time the portrait was executed, Altman was a close friend of Anna Akhmatova (1889-1966).
In 1925, he participated in Exposition Internationale des Arts Decoratifs et Industriels Modernes (Art Deco) in Paris together with Aleksandra Ekster, Vadim Meller, Rudolf Frentz, Sonia Delaunay-Terk and David Shterenberg. His first solo exhibition in Leningrad was in 1926.
---
Natan Altman Painting
---