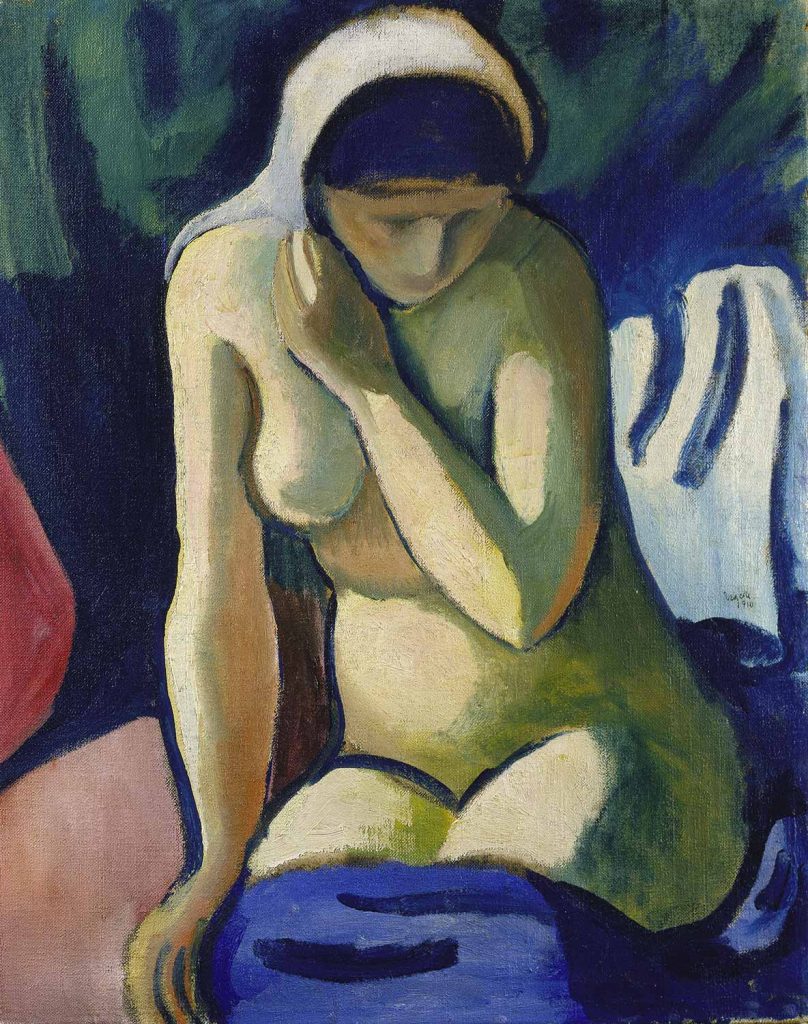 Naked Girl with Headscarf by August Macke was created in 1910 and is in Stadelsches Kunstinstitut Frankfurt. The original size of the work is 75 x 58 cm and is made of oil on canvas.
The Frankfurt businessman Dr. Kurt Möllgaard and his wife, Marga, began collecting modern art in 1945. From 1964 on they donated parts of their collection to the Städelscher Museums-Verein. Kurt Möllgaard commented on his activities: "In doing this, we have intentionally continued a tradition which is also cultivated to a considerable extent by those citizens of Frankfurt who had to leave their homes after 1933." In 1987 Kurt Möllgaard founded the Kurt und Marga Möllgaard-Stiftung, which remains active to this day. Read more Stadelsches Kunstinstitut Frankfurt.
The Artist: August Macke (1887 – 1914) was a German Expressionist painter. He was one of the leading members of the German Expressionist group Der Blaue Reiter (The Blue Rider). He lived during a particularly active time for German art: he saw the development of the main German Expressionist movements as well as the arrival of the successive avant-garde movements which were forming in the rest of Europe. As an artist of his time, Macke knew how to integrate into his painting the elements of the avant-garde which most interested him.
---
This painting is available for purchase as an art print on canvas from canvastar.com

---