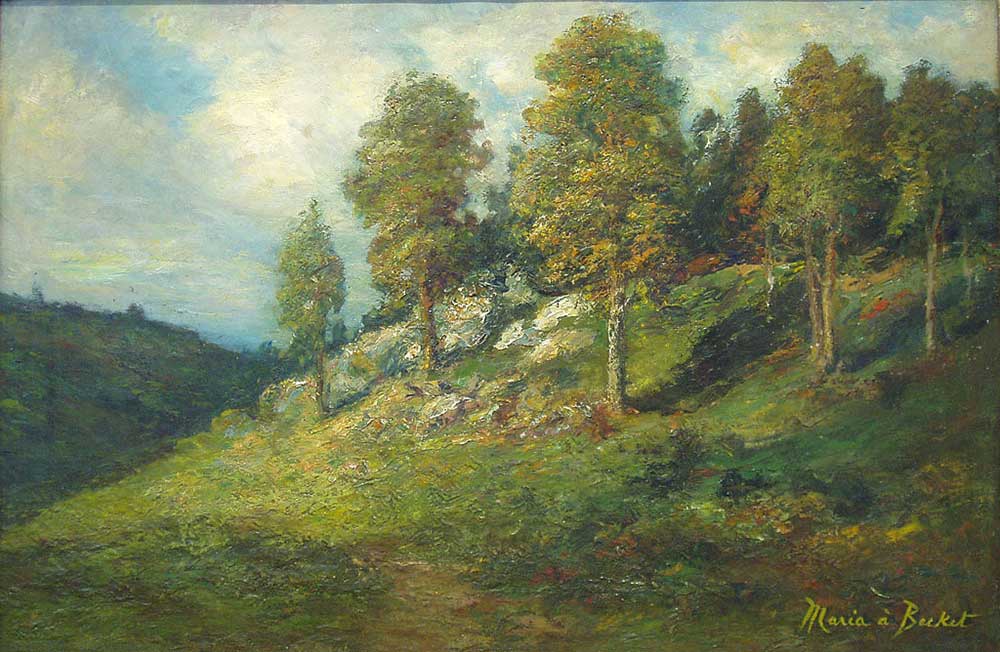 Maria A Becket Hillside Landscape is in Private Collection and is made of oil on canvas.
About The Artist: American Barbizon school painter Maria a'Becket was born in Portland, Maine. In 1866, the Beckett family was a part of the Great Fire of Portland, an accidental fire started from a mixture consisting of the Fourth of July fireworks, a dry atmosphere, and hot temperatures. It was the most destructive fire at the time in American history; it consumed around two-thousand buildings and left almost ten-thousand of the city's thirteen-thousand citizens homeless.
This fire destroyed the Beckett's family home and apothecary business and also attributes to her father's death two months later of "paralytic shock". After this tragedy, Maria, her mother, and her brother John converted to Catholicism. "Maria and John dropped the second 't' from their last name and adopted "a' Becket," aligning themselves with the Medieval Catholic martyr St Thomas a' Becket".
She was among the first American artists to study with champions of the Barbizon school, known for concentrating on informal rural scenery that fit Romantic conceptions of nature. The Barbizon painters in Europe, such as Théodore Rousseau, Jules Dupre, Camille Corot and Jean-François Millet, fully immersed themselves within the natural settings they used as inspiration. Read more.
---
This painting presented as Art Print on Canvas

---