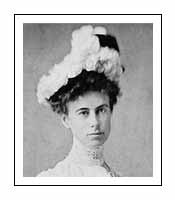 Margaret Neilson Armstrong (1867 – 1944)
American designer, illustrator, and author Margaret Neilson Armstrong was born in New York City. She began her career as a designer in the 1880s, working initially for A.C. McClurg and later for other publishers as well. She designed more than 270 book covers and book bindings, about half of which were for Scribner's. Armstrong worked in the Art Nouveau style and favored plant-related motifs, bold colors, gold stamping, and often slightly asymmetrical designs—an unusual combination that helped to distinguish her among her peers.
She has been called "the most productive and accomplished American book designer of the 1890s. Armstrong cut back on book cover design around 1913 as dust jackets began to come into fashion and turned to writing her own books.
An avid naturalist, Armstrong's passion for natural forms reflected her interest in botany and in particular, in wildflowers. During the 1911-1914 period, she traveled and camped throughout the Western United States and Canada, becoming one of the first women to reach the bottom of the Grand Canyon. She discovered there several species of flowers that had not yet been identified by botanists.
Her work is represented in the Metropolitan Museum of Art's collections and the collections of the New York Botanical Garden.
---
---
References;