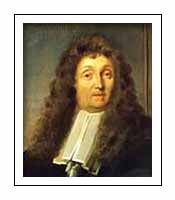 Ludolf Backhuysen (1630 – 1708)
German-born Dutch painter, draughtsman, calligrapher and printmaker Ludolf Backhuysen was born in Emden, East Frisia. Bakhuysen grew up in Emden, which had its heyday in the 16th century and was already showing signs of decline. In 1650 he went to Amsterdam and joined the trading company Bartolotti as clerk. He studied first under Allart van Everdingen and then under Hendrik Dubbels, two eminent masters of the time, and soon became celebrated for his sea-pieces, which often had rough seas.
His first known pictures date from 1658. In 1663 he was admitted to the St. Lucas Guild of Amsterdam painters. His compositions, which are numerous, are nearly all variations of one subject, the sea. In his later years Bakhuysen employed his skills in etching; he also painted a few examples each of several other genres of painting, such as portraits, landscapes and genre paintings.
In 1665 he received the honorable commission from the city council of Amsterdam, for the foreign minister of Louis XIV.
Bakhuizen painted portraits of his large circle of friends. These are of lesser artistic value but provide an insight into his good relations with contemporary scholars and literary figures.
---
---
References;
---