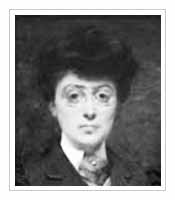 (1853 – 1927)
French painter, sculptor, and designer Louise Abbéma was born in Étampes, Essonne. She began painting in her early teens, and studied under such notables of the period as Charles Joshua Chaplin, Jean-Jacques Henner and Carolus-Duran. She first received recognition for her work at age 23 when she painted a portrait of Sarah Bernhardt, her lifelong friend and possibly her lover.
She was a regular exhibitor at the Paris Salon, where she received an honorable mention for her panels in 1881. Abbéma was also among the female artists whose works were exhibited in the Women's Building at the 1893 World Columbian Exposition in Chicago. A bust Sarah Bernhardt sculpted of Abbéma was also exhibited at the exposition.
Abbéma specialized in oil portraits and watercolors, and many of her works showed the influence from Chinese and Japanese painters, as well as contemporary masters such as Édouard Manet. She frequently depicted flowers in her works. Her high-society portraits executed with a light touch and rapid brushstrokes reveal the academic and Impressionist influences that shaped her style. Her sitters included French diplomats and other notable members of society. Abbéma developed a variety of techniques using oil paints, pastel, and watercolor, and worked on various supports, including fans.
Abbéma died in Paris in 1927. At the end of the 20th century, as contributions by women to the arts in past centuries received more critical and historical attention, her works have been enjoying a renewed popularity.
---
---
More information