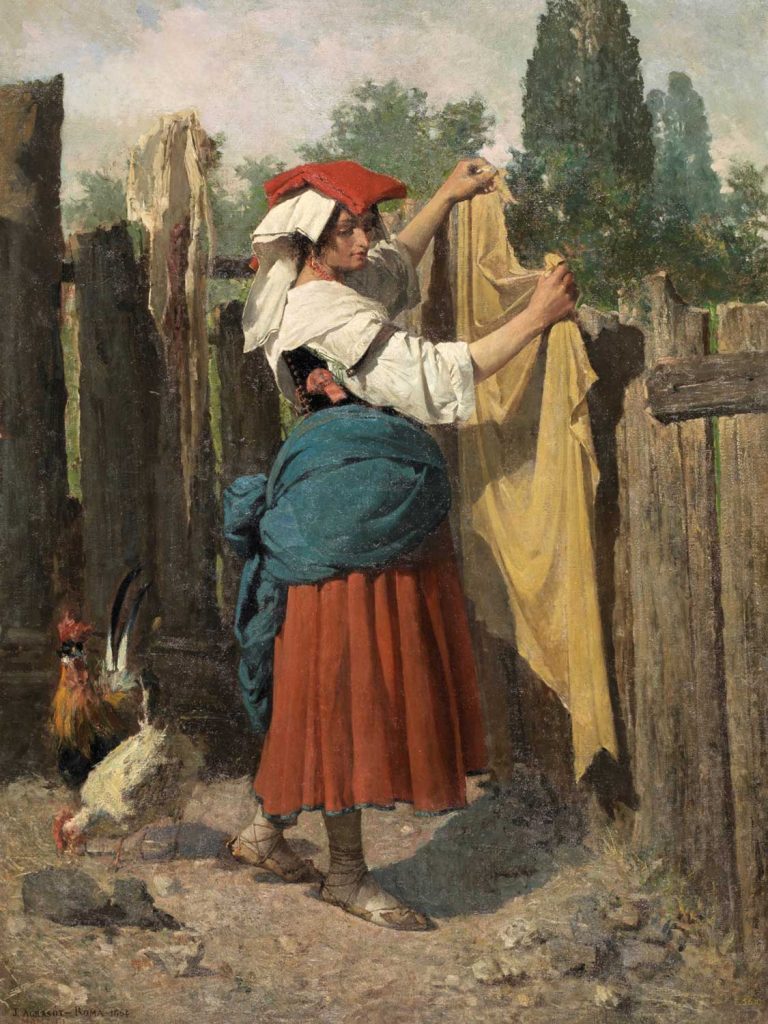 Laundry by Joaquin Agrasot was created in 1864. The painting is in Museo del Prado Madrid. The size of the work is 135 x 100 cm and is made of oil on canvas.
The painting was sent by Agrasot from Rome to the National Exhibition of 1864, in which it was awarded a third medal, it was described by Pantorba as "a good piece (of painting) although hard", being in effect, a very representative work of the the artist's early Roman years, in which his technique, of dense impasto, is still subject to a precise drawing that models the figures with a marked corporeality, without the ease of his later work. However, it is resolved with the rich pictorial texture characteristic of this artist, decidedly immersed in the renovating realism advocated by the circle of Spanish painters residing in Rome in recent years. Read more in (es) Museo del Prado.
The Artist: Joaquín Agrasot y Juan (1836 – 1919) was a Spanish painter of the Realistic style who produced many works in the Costumbrismo genre. His studies began in his home town and, in 1856, he received a fellowship from the "Diputación Provincial de Alicante", the local government. He then enrolled at the Real Academia de Bellas Artes de San Carlos de Valencia, where he studied with the art restorer Francisco Martínez Yago, the father of Salvador Martínez Cubells.
---
This painting is available for purchase as an art print on canvas from canvastar.com

---