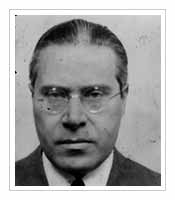 László Moholy-Nagy (1895 – 1946)
Hungarian painter and photographer László Moholy-Nagy László Weisz in Bácsborsód. He was highly influenced by constructivism and a strong advocate of the integration of technology and industry into the arts. László attended a gymnasium school in the city of Szeged, which was the second-largest city in the country. Initially he wanted to become a writer or poet, and in 1911 some of his poems were published in local daily newspapers. Starting in 1913, he studied law at the University of Budapest.
In 1923, Moholy-Nagy was invited by Walter Gropius to teach at the Bauhaus in Weimar, Germany. He took over Johannes Itten's role co-teaching the Bauhaus foundation course with Josef Albers, and also replaced Paul Klee as Head of the Metal Workshop. After the Nazis came to power in Germany in 1933, as a foreign citizen, he was no longer allowed to work there. He worked in 1934 in the Netherlands (doing mostly commercial work) before moving with his family to London in 1935.
In 1937, on the recommendation of Walter Gropius, Moholy-Nagy moved to Chicago to become the director of the New Bauhaus. Moholy-Nagy was diagnosed with leukemia in 1945. He became a naturalized American citizen in April 1946. He continued to produce artworks in multiple media, to teach, and to attend conferences until he died of the disease in Chicago
---
---
References;
---