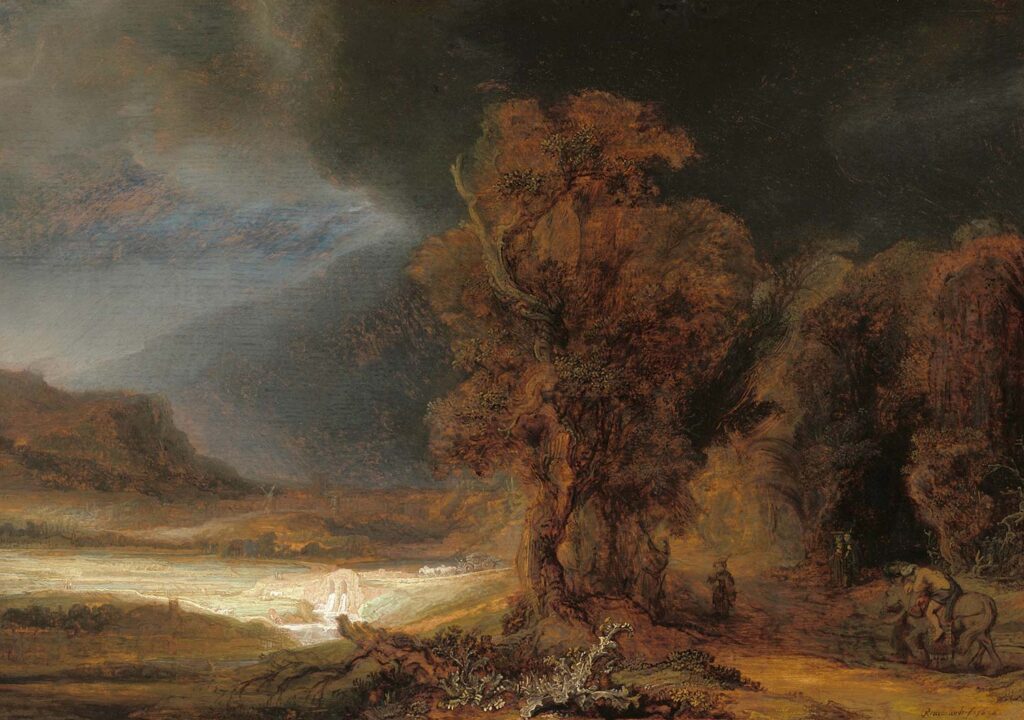 Landscape with the Parable of the Good Samaritan by Rembrandt van Rijn was created in 1638. The painting is in National Museum in Krakow. The size of the work is 46,5 x 66 cm and is made of oil on wood.
"Landscape with the Good Samaritan" of 1638 is one of few known, preserved, single oil landscapes by Rembrandt van Rijn, as well as one of the most valuable works of European art in Polish collections. Artist reached to Christ's parable described in the Gospel of Luke (10;30-36):
A certain man was going down from Jerusalem to Jericho, and he fell among robbers, who both stripped him
and beat him, and departed, leaving him half dead. By chance a certain priest was going down that way. When he saw him, he passed by on the other side. In the same way a Levite also, when he came to the place, and saw him, passed by on the other side. Read more in National Museum Krakow.
About the Artist: Dutch Golden Age painter, printmaker and draughtsman Rembrandt was born on 15 July 1606 in Leiden, in the Dutch Republic, now the Netherlands. As a boy, he attended a Latin school. At the age of 13, he was enrolled at the University of Leiden, although according to a contemporary he had a greater inclination towards painting. In 1624 or 1625, Rembrandt opened a studio in Leiden, which he shared with friend and colleague Jan Lievens. In 1627, Rembrandt began to accept students, which included Gerrit Dou in 1628 and Isaac de Jouderville… Read more
---
Order a reproduction of this work (printed on canvas)
---