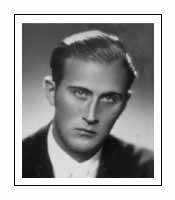 Kārlis Padegs (1911 – 1940)
Latvian artist Kārlis Padegs was born in Torņakalns, a workers district of Riga. He died in Riga in April 1940 from tuberculosis, aged 28. He studied under Latvian painter Vilhelms Purvītis at the Latvia Art Academy. His best-known work is Madonna with Machine Gun, which belongs to the Latvian National Museum of Art in Riga.
He was a refined romantic, Riga dandy of the 1930ies. Padegs acquired an original style and introduced shocking themes that sharply contrasted with the usually lyrical or heroic Latvian art of his time. He favored themes of modern urban life, antiwar subjects, ideal dream world, and sarcastic self-portraits. Bitter irony, grotesque, and paradoxes are among his most frequently employed means of expression. He used expressive distortion, refined features, sharp contrasts.
After an exhibition mounted in 1933, Padegs' art became an expression of unpleasant, even ugly traits, contrasting with the contemporary tendency towards beauty in Latvian art. Padegs once said: "I must often listen to reproaches- why do you draw such disgusting pictures when there is so much beauty in the world?- But there are also many abominable things and somebody must draw them too, I answer. I want to show the seamy side of life which we do not like to see in order not to spoil our feeling of comfort or our good appetite".
---
---
References
---