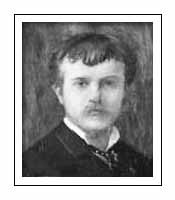 Jules Bastien-Lepage (1848 – 1884)
Jules Bastien-Lepage was a French painter closely associated with the beginning of naturalism, an artistic style that emerged from the later phase of the Realist movement. Bastien-Lepage was born in the village of Damvillers, Meuse, and spent his childhood there. His first teacher was his father, himself an artist. His first formal training was at Verdun. Prompted by a love of art, he went to Paris in 1867, where he was admitted to the École des Beaux-arts, working under Cabanel. He was awarded first place for drawing, but spent most of his time working alone, only occasionally appearing in class.
His initial success was confirmed in 1875 by the First Communion, a picture of a little girl minutely worked up in manner that was compared to Hans Holbein, and a Portrait of M. Hayern. In 1875, he took second place in the competition for the Prix de Rome with his Angels appearing to the Shepherds, exhibited again at the Exposition Universelle in 1878.
After the success of Haymaking, Bastien-Lepage was recognized in France as the leader of the emerging Naturalist school. By 1883, a critic could proclaim that "The whole world paints so much today like M. Bastien-Lepage that M. Bastien-Lepage seems to paint like the whole world." This fame brought him prominent commissions. Between 1880 and 1883 he traveled in Italy. The artist, long ailing, had tried in vain to re-establish his health in Algiers. He died in Paris in 1884, when planning a new series of rural subjects.
---
---
References
---