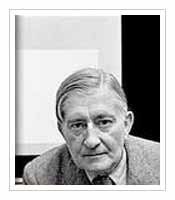 Josef Albers (1888 – 1976)
Josef Albers was born in Bottrop (1888). He is one of the most outstanding German representatives of geometric abstraction. After working as a schoolteacher in his home town of Bottrop, Albers attended the Berlin Academy of Art and a school of decorative art in Essen. He then went on to Munich, to study painting with Franz von Stuck. But the key influence on his development came with his training at the Weimar Bauhaus. There, in 1922, at the behest of Walter Gropius, Albers became teacher of the preliminary course.
In 1929, twenty of his glass-paintings were included in a Bauhaus masters exhibition in Basel and Zurich. Albers also worked in the technique of stained-glass, making windows that were initially composed of myriads of varicolored shards. Soon, however, they began to evince the precisely defined forms and carefully balanced color schemes which would come to dominate his later work.
Art Teacher
Albers gained an international reputation as an art teacher during his Bauhaus period. When the Nazis abolished the school in 1933, he emigrated to the United States, where he was offered a post at the recently inaugurated Black Mountain College, in Ashville, North Carolina. Albers's renown as a teacher attracted young painters working in a variety of styles to the college, including Willem de Kooning and Robert Motherwell. His characteristic ability to combine theoretical concerns with artistic practice had a strong influence on the younger generation of American artists.
Robert Rauschenberg once said that Josef Albers was the best teacher he had ever had. After leaving the faculty of Black Mountain and Yale, where he also lectured, Albers published his investigations into a new theory of color. Titled Interaction of Color (1963), his book had a profound impact on contemporary art. Based on the premise that color was governed by its own, intrinsic laws, Albers argued that if artists were to use it successfully, they would have to grasp its continually deceptive, illusory nature.
Albers's own painting culminated in the famous sequence collectively titled Homage to the Square, began in 1950. Employing this single form, a basic element of constructivist art since Kasimir Malevich, Albers launched into a series of oils, offset prints, and silkscreens in which painstakingly rendered squares of various sizes and color gradations were symmetrically superimposed.
---
---
References;
---