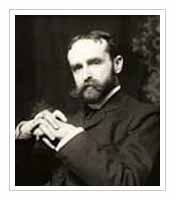 John White Alexander (1856 – 1915)
American Symbolist Artist John White Alexander was born in 1856 in Allegheny, Pennsylvania. John White Alexander began working as illustrator and political cartoonist at Harper's Weekly in New York from 1874. During this time, he met famous illustrators such as Thomas Nast, Edwin Austin Abbey, Joseph Pennell and Howard Pyle. In 1877 he went to Europe. He stayed in Paris for a while. After joining the Royal Academy in Munich, he traveled to Bavaria, Venice and Florence with Frank Duveneck and the artists around him.
He returned to New York in 1881. He continued his career as a portrait painter. In 1891 he went to Paris again. He participated in the exhibitions, the halls held every year, and many other international art organizations such as the Society of Sculptors. He became a manager of them. He returned with great interest when he returned to the US in 1901. He was president of the National Academy of Design until 1909. He died in 1915.
Many of his paintings are in museums and public places in the United States and in Europe, including the Metropolitan Museum of Art, the Brooklyn Art Museum, the Los Angeles County Museum of Art, the Museum of Fine Arts, Boston, the Butler Institute, and the Library of Congress in Washington D.C. In addition, in the entrance hall to the Art Museum of the Carnegie Institute in Pittsburgh, Pennsylvania, a series of Alexander's murals titled "Apotheosis of Pittsburgh" (1905–1907) covers the walls of the three-story atrium area.
---
---
---