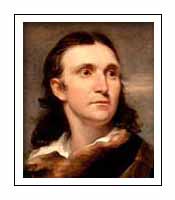 John James Audubon (1785 -1851)
American artist, naturalist, and ornithologist John James Audubon was born in Les Cayes, Saint-Domingue, West Indies. Young Audubon developed an interest in drawing birds during his boyhood in France. At twelve, Audubon went to military school and became a cabin boy. He quickly found out that he was susceptible to seasickness and not fond of mathematics or navigation.
At age 18 he was sent to the United States in order to avoid conscription and to enter business. He began his study of North American birds at that time; this study would eventually lead him from Florida to Labrador, Canada. Audubon resumed his bird studies and created his own nature museum, perhaps inspired by the great museum of natural history created by Charles Willson Peale in Philadelphia. Peale's bird exhibits were considered scientifically advanced. Audubon's room was brimming with birds' eggs, stuffed raccoons and opossums, fish, snakes, and other creatures. He had become proficient at specimen preparation and taxidermy.
Audubon painted some of his works while staying at the Key West house and gardens of Capt. John H. Geiger. Until 1839 Audubon divided his time between Europe and the United States, gathering material, completing illustrations, and financing publication through subscription. In 1841, having finished the Ornithological Biographies, Audubon returned to the United States with his family. He bought an estate on the Hudson River in northern Manhattan.
Methods
Between 1840 and 1844, he published an octavo edition of The Birds of America, with 65 additional plates. Audubon developed his own methods for drawing birds. First, he killed them using fine shot. He then used wires to prop them into a natural position, unlike the common method of many ornithologists, who prepared and stuffed the specimens into a rigid pose. When working on a major specimen like an eagle, he would spend up to four 15-hour days, preparing, studying, and drawing it. His paintings of birds are set true-to-life in their natural habitat.
---
---
References;