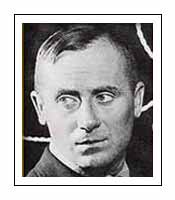 Joan Miró (1893 – 1983)
Spanish painter, sculptor and ceramicist Joan Miró was born in Barcelona. Earning international acclaim, his work has been interpreted as Surrealism but with a personal style, sometimes also veering into Fauvism and Expressionism. He began drawing classes at the age of seven at a private school at Carrer del Regomir 13, a medieval mansion. To the dismay of his father, he enrolled at the fine art academy at La Llotja in 1907. He studied at the Cercle Artístic de Sant Lluc.
A few years after Miró's 1918 Barcelona solo exhibition, he settled in Paris where he finished a number of paintings that he had begun on his parents' summer home and farm in Mont-roig del Camp. In 1924, Miró joined the Surrealist group. The already symbolic and poetic nature of Miró's work, as well as the dualities and contradictions inherent to it, fit well within the context of dream-like automatism espoused by the group.
Miró did not completely abandon subject matter, though. Despite the Surrealist automatic techniques that he employed extensively in the 1920s, sketches show that his work was often the result of a methodical process. Miró's work rarely dipped into non-objectivity, maintaining a symbolic, schematic language.
Experimental style
Joan Miró was among the first artists to develop automatic drawing as a way to undo previous established techniques in painting, and thus, with André Masson, represented the beginning of Surrealism as an art movement. However, Miró chose not to become an official member of the Surrealists to be free to experiment with other artistic styles without compromising his position within the group. He pursued his own interests in the art world, ranging from automatic drawing and surrealism, to expressionism, Lyrical Abstraction, and Color Field painting. Four-dimensional painting was a theoretical type of painting Miró proposed in which painting would transcend its two-dimensionality and even the three-dimensionality of sculpture.
---
---
References;
---