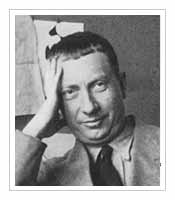 Jean Arp (1886 – 1966)
German-French sculptor, painter, and poet Jean Arp was born in Strasbourg. In 1904, after leaving the École des Arts et Métiers in Straßburg, he went to Paris where he published his poetry for the first time. From 1905 to 1907, he studied at Kunstschule in Weimar, Germany. In 1908 went back to Paris, where he attended the Académie Julian. Arp was a founder-member of the Moderne Bund in Lucerne, participating in their exhibitions from 1911 to 1913.
In 1912 he went to Munich and called on Wassily Kandinsky, the influential Russian painter and art theorist. In 1915 he moved to Switzerland to take advantage of Swiss neutrality. In 1916 Hugo Ball opened the Cabaret Voltaire, which was to become the centre of Dada activities in Zurich for a group that included Arp, Marcel Janco, Tristan Tzara, and others. In 1920, as Hans Arp, along with Max Ernst and the social activist Alfred Grünwald, he set up the Cologne Dada group. In 1925 his work also appeared in the first exhibition of the Surrealist group at the Galérie Pierre in Paris.
In 1926 Arp moved to the Paris suburb of Meudon. In 1931 he broke with the Surrealist movement to found Abstraction-Création, working with the Paris-based group Abstraction-Création and the periodical, Transition. Beginning in the 1930s the artist expanded his efforts from collage and bas-relief to include bronze and stone sculptures.
Arp and his first wife, the artist Sophie Taeuber-Arp, became French nationals in 1926. Throughout the 1930s and until the end of his life, he wrote and published essays and poetry. In 1942 he fled from his home in Meudon to escape German occupation and lived in Zürich until the war ended.
---
---
References;