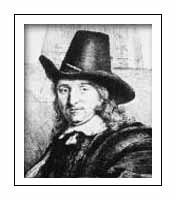 Jan Asselijn (1610 – 1652)
Dutch Golden Age painter Jan Asselijn was born at Dieppe. He received instruction from Esaias van de Velde (1587–1630), and distinguished himself particularly in landscape and animal painting. He traveled in France and Italy, and modeled his style after Bamboccio (Pieter van Laer).
Their marriages brought both Asselijn and Helt-Stockade back to the Netherlands after their travels. Asselijn had a withered hand and was small of stature, which gave him the nickname in France of petit Jean Hollandois, and which gave him the nickname Krabbetje (little claw) in the Bentvueghels.
He seems to have befriended Rembrandt. In the etching that Rembrandt made of him, Asselijn appears in some states to be standing before an easel. His hands are not shown. Frederick de Moucheron, another Italianate landscape painter, was his pupil.
He was one of the first Dutch painters who introduced a fresh and clear manner of painting landscapes in the style of Claude Lorraine. His example was speedily followed by other artists. Asselijn's pictures were in high estimation at Amsterdam, and several of them are in the museums of that city. Twenty-four, painted in Italy, were engraved.
---
---
References;