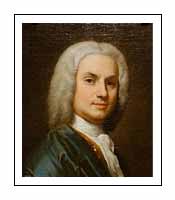 Jacopo Amigoni (1682 – 1752)
Italian painter of the late-Baroque or Rococo period Jacopo Amigoni was born in Venice. He painted both mythological and religious scenes. His style influenced Giuseppe Nogari.
Amigoni's independent career began in 1715 when he painted the altarpiece Christ the Risen Meets His Mother for the Frauenkirche in Munich, which is now in the church of Frauenwörth Abbey on the island of Frauenchiemsee, although it is there at certain times of the year is replaced by a painting of the blessed Irmengard von Chiemsee. With short interruptions, Amigoni stayed in southern Germany until 1729, where he became the undisputed pioneer of Rococo. From 1729 or 1730 to 1739 Amigoni lived in London, apart from a temporary detour to Paris, which he visited in 1736.
Jacopo Amigoni was not only a famous and respected painter in his time, but also an influential one. Amigoni's style developed from its beginnings in a still late baroque idiom, with a color palette that was a bit richer and brighter, to a light rococo, with more subtle, delicate tones that tended to be cooler. His brushwork is fluid, light, soft and loose.
His painting was primarily based on Venetian models, and the influence of Antonio Bellucci in particular can be clearly seen in the way the figures were modeled. In Venice, of course, he also learned from the works of other baroque painters.
Despite all the development, Amigoni's style is based on a baroque classicism as it was particularly cultivated by the Bolognese school in the 17th and 18th centuries, e.g. by Marcantonio Franceschini. However, this component was not interpreted in an academically cool manner by Amigoni, but in a personal, amiable and light-hearted way.
---
---
References;
---