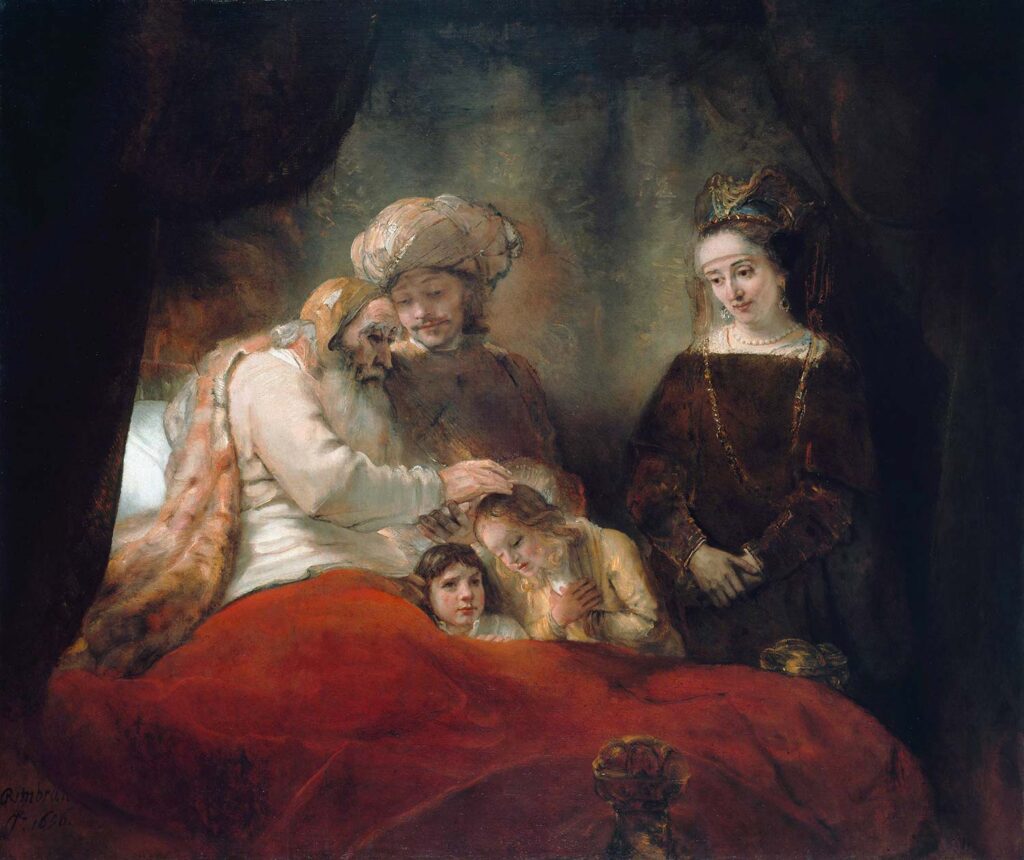 Jacob Blessing the Children of Joseph by Rembrandt van Rijn was created in 1656. The painting is in Museumslandschaft Hessen Kassel. The size of the work is 173 x 209 cm and is made of oil on canvas.
Rembrandt's story does not reproduce the drama of the story, but emphasizes its essence in the sense of the Christian interpretation, according to which Ephraim was seen as the forerunner of younger Christianity, preferred by God to Judaism. The blond, light-beamed boy in the center of the picture crosses his hands on his chest (in the Septuagint translation and the depictions that follow it, Jacob crosses his arms).
Joseph's gesture of embracing the blessing hand is remarkably indefinite and has been interpreted both as cautious resistance to the father's will and – contrary to the biblical text – as its support. The addition of Asnath, the children's mother, serves to complete the family in this significant act. Read more in Museumslandschaft Hessen(de).
About the Artist: Dutch Golden Age painter, printmaker and draughtsman Rembrandt was born on 15 July 1606 in Leiden, in the Dutch Republic, now the Netherlands. As a boy, he attended a Latin school. At the age of 13, he was enrolled at the University of Leiden, although according to a contemporary he had a greater inclination towards painting. In 1624 or 1625, Rembrandt opened a studio in Leiden, which he shared with friend and colleague Jan Lievens. In 1627, Rembrandt began to accept students, which included Gerrit Dou in 1628 and Isaac de Jouderville… Read more
---
Order a reproduction of this work (printed on canvas)
---