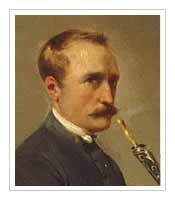 Horace Vernet (1789 – 1863)
French Orientalist Painter Horace Vernet was born in Paris (1789). The young Vernet had totally participated in the Romantic movement. He painted, with energy and exuberance, vibrantly coloured battle scenes, both medieval and modern, poetic fables, the frenzy of wild horses and themes inspired by such writers as Lord Byron and Victor Hugo: Mazeppa (1825) and Giaour (1827). But the painter of these dramatic and turbulent battles, so admired by Stendhal at the 1824 Salon, began to change his style after his appointment as director of the French Academy in Rome in 1828.
Horace Vernet was probably the most adulated of the nineteenth-century French military painters. Born with a silver spoon in his mouth — literally, in the Palais du Louvre — he was soon to gain fame and fortune. He came from a celebrated family of artists: his father, Carle Vernet, was a painter of horses and battle scenes, and his grand-father, Joseph Vernet, specialized in seascapes. Horace, the last of this Vernet "dynasty," found every door open to him. He won a first-class medal at twenty-two, became a Chevalier of the Legion of Honour at twenty-five, a member of the Institut at thirty-six and the director of the French Academy in Rome at thirty-eight.
traditionally royalist
Although the Vernets were traditionally royalist, Horace rallied to Napoleon, then sided with the liberals under the Bourbon Restoration (although this did not prevent him from obtaining an official commission from King Charles X). The revolution of 1830 brought his protector and personal friend, King Louis-Philippe, to the throne, which greatly helped his career. Later, he briefly rallied to the republic after the events of 1848, but then found himself the official painter of the Second Empire. An opportunist? A political turncoat ? He certainly had an extraordinary ability to adapt to the various regimes, while remaining highly successful.
Vernet made the first of many journeys to Algeria in 1833, in the company of the English artist William Wyld. He felt that Africa was the land of the future — "a gold mine for France" — and later became the owner of a considerable amount of property at Ben Koula. Convinced that the gestures and attitudes of the Arabs had been identical for thousands of years, and that he was witnessing living scenes from the Bible, he began to paint religious pictures interpreted through the lives of contemporary nomads. Beginning with the Arab Tale-Teller, painted for the twelfth Earl of Pembroke in 1833, he abandoned the ardour and fluidity of the Romantic style to paint Orientalist and biblical scenes with sharp precision and great ethnographical detail.
biblical figures
This practice of clothing biblical figures in modern Arab costume — Agar chassée par Abraham (Hagar repudiated by Abraham), 1837 (Musée des Beaux-Arts, Nantes), Juda et Tamar (Judah and Tamar), 1840 (Wallace Collection, London), Les vétements de Joseph (Joseph's Coat), 1853 (illustrated opposite) shocked the public and he was obliged to defend his ideas before the Academy, with evidence gathered during his travels. In 1848, he published an article in L'lllustration entitled "Des rapports qui existent entre le costume des anciens Hébreux et celui des Arabes modernes."
In 1835, Vernet was replaced in Rome by Ingres and returned to France just after King Louis-Philippe had created a museum of military history in Versailles. Vernet was commissioned to decorate one of the principal galleries, for which he painted episodes from the conquest of Algeria, Le Siége de Constantine (The Siege of Constantine), Combat de l'Habrah (Battle of the Habrah) and the famous Prise de la Smalah d'Abd-el-Kader (Capture of Abd el Kader's Retinue), which measures a staggering 21.39 metres long !
Horace Vernet with panoramic canvases
Vernet's panoramic canvases were novel in so far as there was no longer a central hero, as was the tradition; even the humblest infantryman played his part in the giant compositions, packed with little incidents which were of equal value. Exhibited at the 1845 Salon, the Smalah drew enormous crowds — and adverse critical opinions, including the following: "It's a whole novel… but composed of a series of installments," and "The battle-scene painters are transforming themselves into news reporters."
After painting so many battle scenes, Vernet began to look like a soldier himself: he affected brusque tones, clipped speech, military bearing, crew-cut hair and enormous moustaches. His journeys — many to Algeria, and to Morocco, Egypt, Syria, Palestine, Turkey and the Crimea — were not always made in great style. Indeed, he took any means of transport available, boat, wagon, sledge, horse, camel, mule, camping in tents or even in the open air. Vernet, a blend of adventurer and offcial artist, had a large production (some 500 paintings and 200 lithographs, according to the writer Lagrange). As a professor at the Paris School of Fine Arts, he had an enormous influence on the artistic organizations of his time, on juries, Salons and competitions.
He also received many commissions from the State, the grand bourgeoisie and high-ranking army officers. His lithographed sketches and paintings, published on a large scale, earned him immense public renown. He was, however, ferociously attacked both personally and professionally, not only during his lifetime but posthumously. By the end of the nineteenth century, his work was almost universally disparaged by official critics and encyclopedists. But the 1980 retrospective in Rome and Paris has done much to rehabilitate this artist, whose work is so varied and so closely identified with the political and military aspirations of his time.
Literature: J.M. Bruzard, Catalogue de l'æuvre lithographiée par M. J.E.Horace Vernet, Paris, 1826; F. Goupil (called GoupilFresquet), Voyage en Orient fait avec Horace Vernet en 1839 et 1840, Paris (1843); A. Durande, Joseph, Carle et Horace Vernet, Correspondance, Paris (1864); A. Dayot, Les Vernet, Joseph, Carle, Horace, Paris, 1898; C. Blanc, Une famille d'artistes: les trois Vernet, Joseph, Carle, Horace, Paris (1898); H. Roujon, Horace Vernet, Paris, 1913.
Exhibitions: Horace Vernet, Académie de France, Rome, Ecole Nationale Supérieure des Beaux-Arts, Paris, 1980.
Auction: 15 December 1852, Paris.