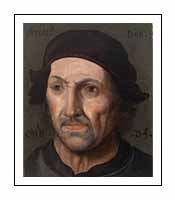 Hieronymus Bosch (1450 – 1516)
Dutch painter Hieronymus Bosch was born in 's-Hertogenbosch. Little is known of Bosch's life or training. Bosch lived all his life in and near 's-Hertogenbosch, which was located in the Duchy of Brabant. He became a popular painter in his lifetime and often received commissions from abroad.
In the 20th century, when changing artistic tastes made artists like Bosch more palatable to the European imagination, it was sometimes argued that Bosch's art was inspired by heretical points of view as well as by obscure hermetic practices. Again, since Erasmus had been educated at one of the houses of the Brethren of the Common Life in 's-Hertogenbosch, and the town was religiously progressive, some writers have found it unsurprising that strong parallels exist between the caustic writing of Erasmus and the often bold painting of Bosch.
Bosch sometimes painted in a comparatively sketchy manner, contrasting with the traditional Flemish style of painting in which the smooth surface conceals the brushwork. Bosch's paintings with their rough surfaces, so called impasto painting, differed from the tradition of the great Netherlandish painters of the end of the 15th, and beginning of the 16th centuries, who wished to hide the work done and so suggest their paintings as more nearly divine creations.
The exact number of Bosch's surviving works has been a subject of considerable debate. His signature can be seen on only seven of his surviving paintings, and there is uncertainty whether all the paintings once ascribed to him were actually from his hand. It is known that from the early 16th century onwards numerous copies and variations of his paintings began to circulate. In addition, his style was highly influential, and was widely imitated by his numerous followers.
---
---
References;
---