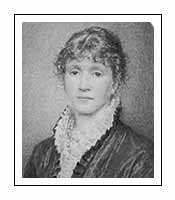 Helen Allingham (1848 – 1926)
British watercolourist and illustrator Helen Allingham was born at Swadlincote in Derbyshire. She enrolled in the Birmingham School of Design. At age seventeen secured a place in the Female School of Art in London. A year later in 1867 she was accepted on her first try into the prestigious Royal Academy Schools.
While studying at the National Art Training School, Paterson worked as an illustrator. She was one of the women artists who made a considerable impact, as artists like Van Gogh were influenced by her. Helen's cottage paintings became very popular back in London. In 1886 she was invited to hold a one-woman exhibition titled Surrey Cottages by the Fine Art Society in London.
In 1890, Allingham became the first woman to be admitted as a full member of the Royal Watercolour Society. At the 1893 World's Columbian Exposition in Chicago, Illinois she exhibited her work at the Palace of Fine Arts.
She traveled the countryside, staying just ahead of the builders and wrecking balls, painting outdoors with a pallette of just nine colors. She exhibited her beautiful country watercolours every year in London and her cottage scenes grew in popularity. Helen Allingham died of a sudden illness while visiting an old friend at Valewood House in Haslemere.
---
---
References