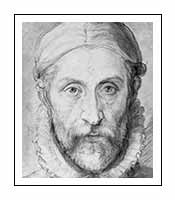 Giuseppe Arcimboldo (1527 – 1593)
Italian painter Giuseppe Arcimboldo was born in Milan. He was a conventional court painter of portraits for three Holy Roman Emperors in Vienna and Prague. He specialized in grotesque symbolical compositions of fruits, animals, landscapes, or various inanimate objects arranged into human forms.
At a distance, his portraits looked like normal human portraits. However, individual objects in each portrait were actually overlapped together to make various anatomical shapes of a human. They were carefully constructed by his imagination. The animal tails, which became the beard of the portrait, were used as dusters. By using everyday objects, the portraits were decoration and still-life paintings at the same time. His works showed not only nature and human beings, but also how closely they were related.
With the advent of surrealism its theorists paid attention to the formal work of Arcimboldo. Gustav Hocke drew parallels between Arcimboldo, Salvador Dalí, and Max Ernst's works. Arcimboldo's classification as mannerist also belongs to the 20th century. Its justification contains in Gustav Rehn Hok's work The world as a Labyrinth, published in 1957. Arcimboldo was born in the late Renaissance, and his first works were done in a traditional Renaissance manner.
In the work Arcimboldo and archimboldesk, F. Legrand and F. Xu tried to reconstruct the artist's philosophical views. They came to a conclusion that the views represented a kind of Platonic pantheism. The key to reconstruction of Arcimboldo's outlook seemed to them to be in the symbolism of court celebrations staged by the artist, and in his allegorical series.
---
---
References;