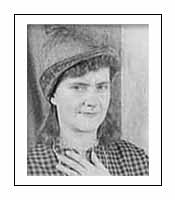 Gertrude Abercrombie (1909 – 1977)
American painter Gertrude Abercrombie was born in Austin, Texas. She earned a degree in Romance languages from the University of Illinois at Urbana–Champaign in 1929. In 1932 she began to focus strictly on her art.
The following summer she made her first sale at an outdoor art fair in Chicago and received an honorable mention in the newspaper for the event. In the mid-1930s she moved out of her family's home and became active in the regional art scene. From 1934 to 1940 she served as a painter for the Works Progress Administration and in 1934 the Chicago Society of Artists held a solo show of her work.
Abercrombie painted many variations of her favored subjects. Sparsely furnished interiors, barren landscapes, self-portraits, and still-lifes. Many compositions feature a lone woman in a flowing gown, often depicted with attributes of sorcery.
Abercrombie's mature works are painted in a precise, controlled style. She took little interest in other artists' work, although she admired Magritte. Largely self-taught, she did not regard her lack of extensive formal training as a hindrance. Her work evolved into incorporating her love for jazz music, inspired by parties and jam sessions she hosted in her Hyde Park home.
---
---
References;
The surreal art of the Chicago saloniste Gertrude Abercrombie