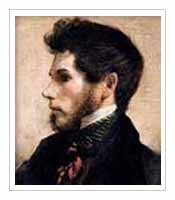 Friedrich von Amerling (1803 – 1887)
The Austrian academic classical painter Friedrich von Amerling was born in 1803 in Vienna. From 1815 to 1824 he worked at the Vienna Art Academy. His teachers were historian Hubert Maurer and Carl Gsellhofer.
From 1824 until 1826 he was in art academy in Prague. In 1827 he moved to London and stayed in London for a year. Here they met with Sir Thomas Lawrence and carried them to their influential paintings for the next twenty years. Later, Amerling, who traveled to Rome and Paris, returned to Vienna upon an official call. In 1829 he won the Vienna Academy Award. The frequent traveler went to Italy and the Netherlands from 1836-1838, 1839 Munich, 1840-1843 Rome, 1882 Spain, 1883 England, 1884 Greece, 1885 Scandinavia and 1886 in Egypt and Palestine.
Friedrich von Amerling studied portrait in academic style. He did research on the portrait at the Academy. He portrayed many of the Vienna societies and mastered the personalities of the models. He maintained his position in the academy until his death in 1887. There are over 1000 works, most of them portraits.
---
---
More information
---