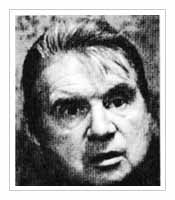 Francis Bacon (1909 – 1992)
Irish-born British figurative painter Francis Bacon was born in Dublin. The 1933 Crucifixion was his first painting to attract public attention. By 1944 Bacon had gained confidence and moved toward developing his unique signature style. His Three Studies for Figures at the Base of a Crucifixion had summarised themes explored in his earlier paintings, including his examination of Picasso's biomorphs, his interpretations of the Crucifixion, and the Greek Furies.
Painting (1946) was shown in several group shows including in the British section of Exposition internationale d'art moderne. The following year Bacon exhibited his "Heads" series, most notable for Head VI, Bacon's first surviving engagement with Velázquez's Portrait of Pope Innocent X.
In 1950, Bacon met the art critic David Sylvester, then best known for his writing on Henry Moore and Alberto Giacometti. Sylvester had admired and written about Bacon since 1948. Bacon's artistic inclinations in the 1950s moved towards his abstracted figures which were typically isolated in geometrical cage-like spaces, and set against flat, nondescript backgrounds. Bacon said that he saw images "in series", and his work typically focused more on a single subject for sustained periods, often in triptych or diptych formats.
As Bacon's work moved from the extreme subject matter of his early paintings to portraits of friends in the mid-1960s, Dyer became a dominating presence. Bacon's paintings emphasise Dyer's physicality, yet are uncharacteristically tender. More than any other of Bacon's close friends, Dyer came to feel inseparable from his portraits. The paintings gave him stature, a raison d'etre, and offered meaning to what Bacon described as Dyer's "brief interlude between life and death".
He died of a heart attack on 28 April 1992.
---
---
References;
---