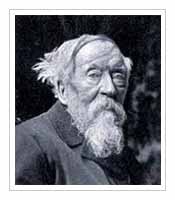 Félix Ziem (1821 – 1911)
French Orientalist Painter Félix Ziem was born in Beaune (1811). From a simple family – his Polish father was a tailor – Ziem swiftly ascended the social ladder. Ziem planned to be an architect, studied in the École des Beaux-Arts in Dijon, and for a time he worked as an architect. While working as a construction foreman in Marseilles, he showed his watercolours to the duc d'Orléans, who had just returned from the Portes de Fer expedition in Algeria. Commissions soon followed. In 1843, he went to Russia with Prince Grigori Gagarin, himself an artist, and, during this stay of nearly two years, gave lessons to the grand duchesses in St. Petersburg. From then on, he led a brilliant social life amongst the aristocracy of Europe, his clientele growing larger every year.
Félix Ziem's name is indissociable from the two sources of his inspiration, Venice and Constantinople. Enormously admired in his lifetime, he was judged harshly for years after his death, mainly because of the vulgarity of much of his large production. Only recently have his almost abstract studies of pure color and his more personal paintings been isolated from the commercial mass and appreciated at their just value.
Journeys
A series of journeys followed, not only in Europe, but also to Algeria, Tunisia, Morocco, Egypt and Asia Minor. He probably visited Turkey for the first time around 1848, returning in 1856 on a trip to Constantinople, Beirut and Cairo. He was never to return to North Africa or the New East again. On the other hand, he made frequent journeys to Italy : "The Eastern world," he said, "also includes Venice." He read and spoke Arabic and built his studio in Martigues in the Oriental style.
Although he painted during seventy years, Ziem only sent his views of Venice and the Orient to the Salons from 1849 to 1868, and again after 1888. Few artists have known such success. Not only was he covered with honours, but his work commanded large sums of money, both from collectors and in the salerooms.
Félix Ziem in Venice and Constantinople
The large paintings considered typical of Ziem, which were painted in his studio, showed a Venice and a Constantinople untouched by modern civilization. His eternally repeated themes — the lagoon, the Golden Horn, caiques on the Bosphorus, fantasias, sultanas and harems — were mere displays of color, unnatural pinks, yellows and azure blues. It is his oil sketches and watercolors that are the most diverse and personal. Painted outdoors, they show Ziem's interest in the scenes of everyday life in the East, crowded streets, souks, artisans, vendors and sundry racial types. In time, these preparatory sketches, became increasingly looser until there was no preliminary drawing, only dabs, squiggles and trails of pure color which suggested the subject more than they defined it. Unlike his finished paintings, the watercolors were often dated, and sometimes even displayed the hour.
Ziem loved to fabulize, which led press articles released before his death being filled with misleading information. His work was widely copied, with forged signatures, while the names on his followers' paintings were sometimes removed and replaced with Ziem's name by unscrupulous owners. In 1905, Ziem donated around one hundred works to the Paris Musée du Petit Palais. In 1912, a large part of his cuvre, left in his studio after his death, was given by his widow to the museums of Beaune, Dijon and Marseilles and to the Ziem museum in Martigues.
---
Literature: L. Fournier, Félix Ziem, Beaune, 1898; C. Mauclair, L'Art de Félix Ziem, Paris, 1901; L. Roger-Milös, Félix Ziem, Paris, 1903; H. Roujon, Félix Ziem, Paris, n.d.; E. Hild, Études sur l'æuvre dessinée de Félix Ziem (thesis), University of Aix-en-Provence, 1976; P. Miquel, Félix Ziem, Maurs-la-Joie, 1978, 2 vol.; A. Burdin, Félix Ziem, Paris (catalogue raisonné in preparation).
Félix Ziem Exhibition
Ziem en Marge, Musée de l'Annonciade, Saint-Tropez, 1980.
---