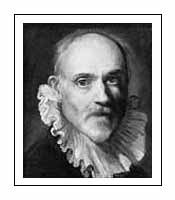 Federico Barocci (1535 – 1612)
Federico Barocci was an Italian Renaissance painter and printmaker. His work was highly esteemed and influential, and foreshadows the Baroque of Rubens. He is generally considered the greatest and the most individual painter of his time in central Italy. He was born at Urbino, Duchy of Urbino, and received his earliest apprenticeship with his father, Ambrogio Barocci. He was then apprenticed with the painter Battista Franco in Urbino.
After passing four years at Rome, he returned to his native city, where his first work of art was a St. Margaret executed for the Confraternity of the Holy Sacrament. He was invited back to Rome by Pope Pius IV to assist in the decoration of the Vatican Belvedere Palace at Rome, where he painted the Virgin Mary and infant, with several Saints and a ceiling in fresco, representing the Annunciation.
During this second sojourn, while completing the decorations for the Vatican, Barocci fell ill with intestinal complaints. He suspected that a salad which he had eaten had been poisoned by jealous rivals. Barocci's embrace of the Counter Reformation would shape his long and fruitful career. By 1566, he joined a lay order of Capuchins, an offshoot of Franciscans. He may have been influenced by Saint Philip Neri, whose Oratorians sought to reconnect the spiritual realm with the lives of everyday people.
Barocci's emotive brushwork was not lost on Peter Paul Rubens when he was in Italy. Rubens is known to have made a sketch of his dramatic Martyrdom of St Vitale, in which the martyr's undulating flesh is the eye of another whirlwind of figures, gestures, and drama.
---
---
References
---