Eugene Emmanuel Amaury Duval (1808 – 1885)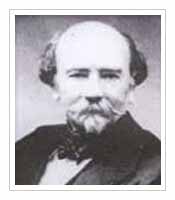 French Academic Classical Artist Eugene Emmanuel Amaury Duval was born in 1808 in Montrouge. From 1825 onwards, the artist studied painting and drawing from the French painter Jean Auguste Dominique Ingres. In 1830, he experienced his first mixed exhibition with a child portraiture. He continued to exhibit his portraits until 1868.
After traveling to Italy between 1834 – 36, he studied examples of renaissance and neo-greek works. In his paintings he took the fine, dignified, elegant, calm female figures of ancient Greek art as models.
On returning to France he was one of the artists commissioned to decorate churches by the government of Louis-Philippe then Napoleon III – the Sainte Philomène chapel at the église Saint-Merry (1840–1844), the chapel of the virgin at Saint-Germain-l'Auxerrois in Paris (1844–1846) then the parish church of Saint-Germain-en-Laye (1849–1856)
His original fame was obtained with (1862) The Birth of Venus . He influenced the classical norms in painting with his portraits.
His paintings are now on display in many museums such as Paris Musee d'Orsay and Versailles Palace.
---
---
index
The Birth of Venus, Date: 1862, Medium: Oil on Canvas, Dimensions: 196.8 x 108.9 cm, Location: Palais des Beaux-Arts de Lille
The Bather, Date: 1865, Medium: Oil on Canvas, Dimensions: 138.5 x 98.3 cm
---