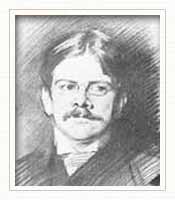 Edwin Austin Abbey (1852 – 1911)
American muralist, illustrator, and painter Edwin Austin Abbey was born in Philadelphia. He studied art at the Pennsylvania Academy of the Fine Arts under Christian Schuessele. Abbey began as an illustrator, producing numerous illustrations and sketches for such magazines as Harper's Weekly (1871–1874) and Scribner's Magazine. His illustrations began appearing in Harper's Weekly before Abbey was twenty years old. He moved to New York City in 1871. His illustrations were strongly influenced by French and German black and white art.
In 1890 he made his first appearance with an oil painting, "A May Day Morn", at the Royal Academy in London. He received a gold medal at the Pan-American Exposition and was commissioned to paint the coronation of King Edward VII. It was the official painting of the occasion and, hence, resides at Buckingham Palace. He did receive a knighthood,[8] although some say he refused it in 1907. Friendly with other expatriate American artists, he summered at Broadway, Worcestershire, England, where he painted and vacationed alongside John Singer Sargent at the home of Francis Davis Millet.
In 1908–09, Abbey began an ambitious program of murals and other artworks for the newly completed Pennsylvania State Capitol in Harrisburg, Pennsylvania.
Abbey was elected to the National Academy of Design, in 1902. He was honorary member of the Royal Bavarian Society and the Société Nationale des Beaux-Arts, and was made a chevalier of the French Legion of Honour. He was a prolific illustrator, and attention to detail, including historical accuracy, influenced successive generations of illustrators.
---
---
More information