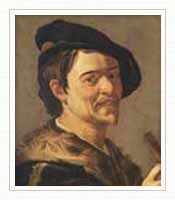 Dirck van Baburen (1595 – 1624)
Dutch Baroque painter Dirck van Baburen was born in Wijk bij Duurstede in 1595. His father was a Jasper van, Utrecht council. In 1611, he started taking painting lessons from Paulus Moreelse, a painter of portraits and historical subjects. Probably in later years he became an apprentice of the painter. In 1612 he went to Rome and was influenced by Caravaggio's dramatic shadowing and the use of light.
From 1615 to 1620 he worked for the church of San Pietro in Montorio in Rome. In 1619 he became a member of the spiritual council of Andrea della Fratte. In 1620 he returned to Utrecht and shared his workshop with Hendrick ter Brugghen. In Rome, Vincenzo entered into the patronage of Giustiniani. Caravaggio always kept his style in his paintings.
Based on a lost picture of Caravaggio, this master is influenced by the Giy Crowned Thorny Jesus ', one in the Franciscan House in Weert in the Netherlands, and in the Drury-Lowe Collection at Locko Park in the other England. Baburen, especially in his painting The Procuress (1622), liked the kind of paintings or subjects related to daily life. Baburen's style can be considered as free and powerful because he deviates from his contemporaries with the penchant for painting, his lack of emphasis on atmospheric effect, and his lack of regular rhythm in his compositions.
---
---
---