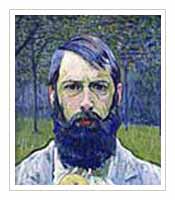 Cuno Amiet (1868 – 1961)
The Swiss Impressionist Painter Cuno Amiet was born in Solothurn in 1868. In 1884 he met his father's friend painter Frank Buchser. Frank Buchser persuades Amiet to become a painter despite his father's objection. In 1886, with his friend Paul Demme, he went to receive academic training in Munich.
In 1887 he met the Swiss painter Giovanni Giacometti. In 1892, the fishing village passed to Pont Aven. Here he meets Gauguin's works.
In 1893 he met Ferdinand Holder, influenced by his symbolism. In 1931, close to 50 works in the Glaspalast fire in Munich, but the artist's courage is unbreakable and new work balances the loss.
After his 1898 marriage to Anna Luder von Hellsau, Amiet moved to Oschwand, where his house became a meeting place for artists and writers such as Wilhelm Worringer, Adolf Frey, Hermann Hesse, Arthur Weese, and Samuel Singer, and where he taught students such as Werner Miller, Marta Worringer, Hans Morgenthaler, Hanny Bay, Marc Gonthier [fr], Albert Müller, Josef Müller, Walter Sautter, Werner Neuhaus, and Peter Thalmann.
In the late 1920s and in the 1930's, Amiet executed numerous wall paintings. Amiet was a member in the Swiss Federal Art Commission (1911–15 and 1931–32), a board member of the Gottfried Keller Foundation (1934–48) and of the Kunstmuseum Bern (1935–48). He was awarded an honorary doctorate from the University of Berne in 1919.[2] He died in 1961 in Oschwand
---
the books;
CUNO AMIET : DIE GEMÄLDE 1883-1919 >>>
---
index
Rose Garden, Date: 1935, Medium: Oil on Canvas, Dimensions: 32,5 x 41 cm.
Hausbau II, Date: 1908, Medium: Oil on Canvas, Dimensions: 60 x 55 cm
---