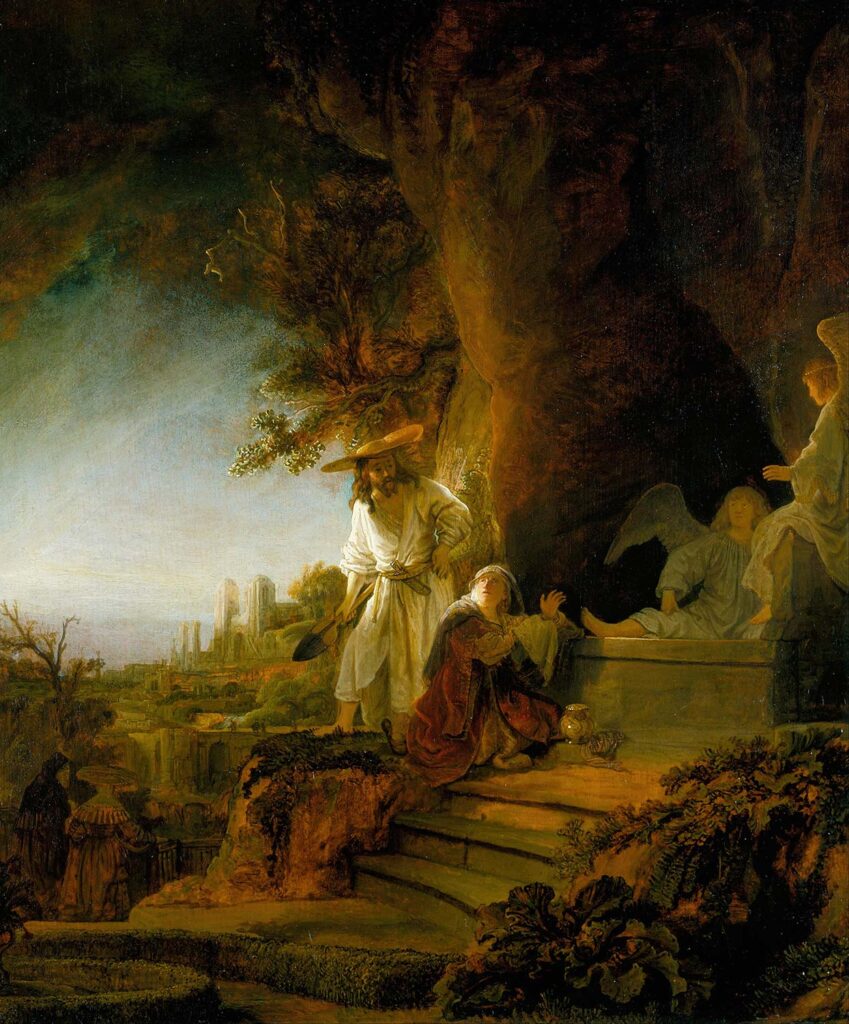 Christ and St Mary Magdalen at the Tomb by Rembrandt van Rijn was created in 1638. The painting is in Royal Collection London. The size of the work is 61 x 50 cm and is made of oil on panel.
Christ and St Mary Magdalene at the Tomb reveals how imaginatively Rembrandt could interpret traditional religious subject-matter. The scriptural source for this scene is the Gospel of St John (20:11-18), who describes in some detail the burial and subsequent resurrection of Christ following the Crucifixion. Mary Magdalene returns to the tomb early the next morning, only to find the stone at the entrance removed and two angels inside it where the body should have been. She then fetches two of the disciples, who check that the tomb is empty and then leave her.
The angels then ask Mary Magdalene, 'Woman, why weepest thou?' and she replies, 'Because they have taken away my Lord, and I know not where they have laid him.' At that moment she turns round and sees a man dressed as a gardener, not appreciating that he is the resurrected Christ. She appeals to him for information, but he calls her by her name and she instantly recognises him. Read more in Royal Collection.
About the Artist: Dutch Golden Age painter, printmaker and draughtsman Rembrandt was born on 15 July 1606 in Leiden, in the Dutch Republic, now the Netherlands. As a boy, he attended a Latin school. At the age of 13, he was enrolled at the University of Leiden, although according to a contemporary he had a greater inclination towards painting. In 1624 or 1625, Rembrandt opened a studio in Leiden, which he shared with friend and colleague Jan Lievens. In 1627, Rembrandt began to accept students, which included Gerrit Dou in 1628 and Isaac de Jouderville… Read more
---
Order a reproduction of this work (printed on canvas)
---