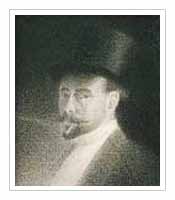 Charles Angrand (1854 – 1926)
French Pointillist painter Charles Angrand was born in 1854 in Criquetot-sur-Ouville. The artist studied painting at Peinture et de Desin Rouen in Rouen. Despite not being generally regarded as successful at Paris Beaux-Arts, he has a controversial reputation by interpreting his impressionism in his own technique. He was an important member of the Parisian avant-garde art scene in the late 1880s and early 1890s.
In 1875 he went to Paris and traveled to a retrospective exhibition of Jean Baptiste Camille Corot, who strongly influenced him here.
He taught at the Collége Chaptal in Paris until 1882. It was contacted by Paris's progressive art scene. In 1884 he was among the founders of Salon des. Indépendants. He mostly took pictures of the countryside and kitchen gardens. It was influenced by Monet and Camille's brush strokes.
He exhibited his work in Paris at Les Indépendants, Galerie Druet, Galérie Durand-Ruel, and Bernheim-Jeune, and also in Rouen. His work appeared in Brussels in an 1891 show with Les XX. In the early 1890s, he abandoned painting, instead creating conté drawings and pastels of subjects including rural scenes and depictions of mother and child, realized in dark Symbolist intensity.
During this period, he also drew illustrations for anarchist publications such as Les Temps nouveaux; other Neo-Impressionists contributing to these publications included Signac, Luce, and Théo van Rysselberghe
---
---
More information;