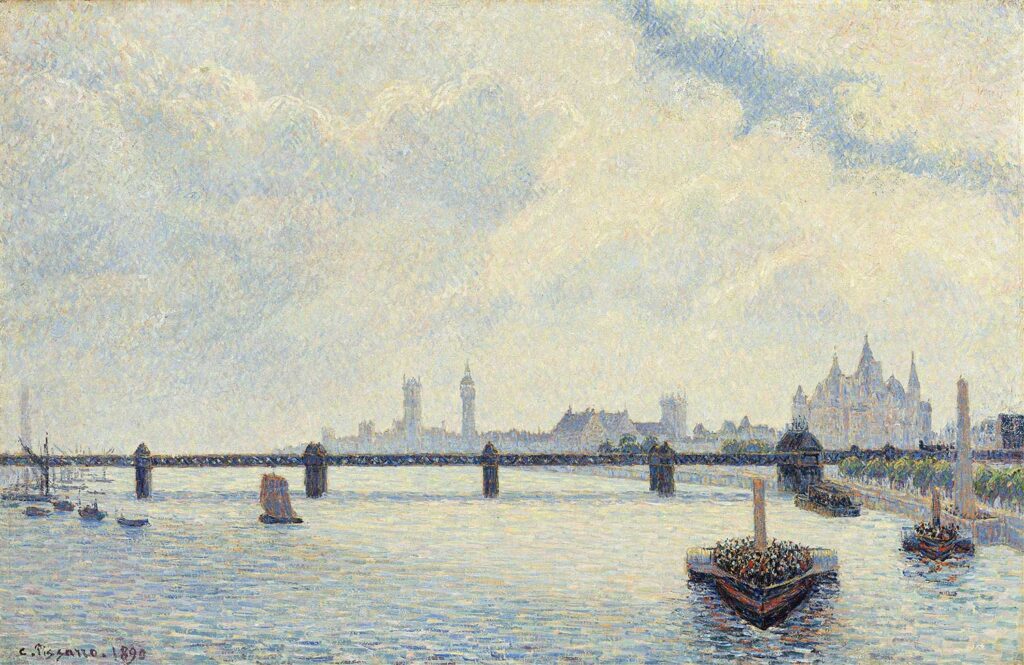 Charing Cross Bridge, London by Camille Pissarro was created in 1890. The painting is in National Gallery of Art Washington D.C. The size of the work is 60 x 90 cm and is made of oil on canvas.
We look across a river at a long, flat bridge that runs parallel to a hazy, city skyline in the distance in this horizontal painting. The scene is painted with visible dashes and strokes of mostly pastel blue, ivory white, muted mauve purple, and navy blue. The flat bridge spans the width of the composition along the horizon, which comes a third of the way up the canvas. The sky above is filled with clouds painted in muted tones of cream white, pale blue, and a few touches of shell pink, which mirror the water below.
Along the horizon, buildings with spires and towers stretch from our right about two-thirds of the way across the canvas. To our left, a cluster of several boats, tiny in scale, gather near the bridge. Closer, and to our right, three larger ferries are crowded with passengers who are represented by miniscule daubs of brightly colored paint, mostly in black, golden yellow, crimson red, sky and cobalt blue, and ivory white. These boats are painted in short, flat brushstrokes in bands of flame red and midnight blue. The artist signed and dated the work at the lower left: "C. Pissarro, 1890."… Read more in National Gallery of Art Washington D.C.